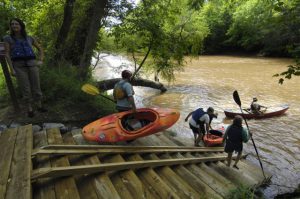 Catawba Lands Conservancy reopened its Spencer Mt. River Access canoe/kayak launch on Aug. 8 via a user pass system. The access launch is also equipped with additional warning and safety signs.
On June 29, CLC closed the location due to public safety concerns related to unauthorized swimming and maintenance issues. During the six-week closure, access users, local residents and community partners helped to guide the decision-making process by offering suggestions and feedback.
"We know that the Spencer Mt. River Access is a community amenity and we worked diligently to develop ways to make this location safer and more sustainable," said Tom Okel, executive director for CLC. "We believe that the new signage and user pass system will help us achieve our goals of providing a safe access to the river and protecting this natural area, while addressing critical maintenance and public safety concerns."
Opened to the public in 2009 as CLC's first canoe/kayak launch, the Spencer Mt. River Access provides a convenient and safe launch for canoe and kayak users to a five-mile blueway trail on the South Fork Catawba River that is part of the Carolina Thread Trail.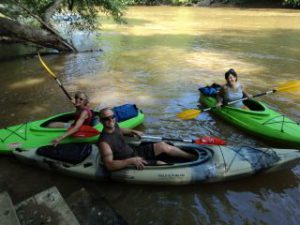 Those interested in using the canoe/kayak launch must first call 704-342-3330, ext. 206, to request a user pass. The new user pass system consists of a sign to display on a vehicle dashboard and a combination code for the gate. On the voicemail, individuals must leave their name, telephone number and an email address. A CLC staff member will return the telephone call and provide more detailed instructions on the pass system. Also, CLC posted new and more visible warning and safety signs conveying that swimming, wading and littering are prohibited.
During the closure, CLC also heard from individuals who use the access to sit, relax and enjoy nature. Nature observers and fisherman/woman will still be permitted to enjoy the area, as long as observers are abiding by posted warning and safety signs.
"While not perfect, this pass system will give us a better idea of who's using the access and help ensure that it's being used safely and responsibly," said Sharon Wilson, land stewardship director for CLC. "We appreciate all of the suggestions, volunteers and help that have been useful in reopening this facility and will continue to make necessary adjustments to the pass system when warranted. Again, we apologize for the inconvenience over the past several weeks."
CLC will continue to monitor the access area and is asking access users to call 704-342-3330, ext. 206, if they witness or are aware of swimming or maintenance concerns.  The Spencer Mt. River Access is located in Gaston County (200 Stanley Spencer Mountain Road in Spencer Mountain) along the South Fork Catawba River on a 52-acre preserve owned by CLC (Northbrook Preserve).