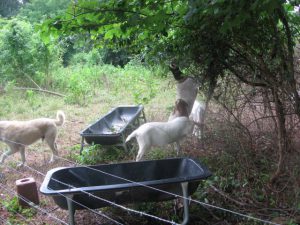 Several goats – from Wells Farm in Horse Shoe, NC – are at Seven Oaks Preserve eating away at the nuancing kudzu vines growing there. It will take the goats about five weeks to graze and eat 10 acres worth of kudzu at three locations at the preserve. However, the goats will only be at the location near the Daniel Stowe Botanical Garden (the Garden) for just one more week!
This environmentally sensitive removal of kudzu along Lake Wylie in Gaston County is funded by a $10,000 Habitat Enhancement Program Grant from Duke Energy. CLC was awarded the grant in the fall of 2011.
Kudzu is an invasive plant species native to Asia that has been problematic in southeastern United States for decades. The plant's vines grow rapidly over trees and shrubs and kills them by heavy shading. However, kudzu is high-quality fodder for livestock and other grazing animals, thus the reason why goats are so effective for its removal.
"We thank Duke Energy for this grant that will fund this effort to reduce the kudzu at our preserve," said Sean Bloom, GIS director for CLC. "This project is so important to help us restore this land to a healthier natural state while supporting our community partner, Daniel Stowe Botanical Garden, in their efforts to protect and enhance their grounds."
To go to the Garden and see its splendor and beauty, and see the goats in action, go to  www.dsbg.org/geninfo.php or call 704. 825.4490 for more information. The Garden is located at 6500 South New Hope Road in Belmont, Gaston County.
View local news coverage of the goats eating kudzu (thanks News 14, Lake Wylie Pilot and Gaston Gazette):
News 14 Carolina:
http://charlotte.news14.com/content/658789/goats-fighting-kudzu-infestation-at-daniel-stowe-botanical-garden
Lake Wylie Pilot:
http://www.lakewyliepilot.com/2012/06/18/1563480/goats-arrive-to-clear-trail-path.html
Gaston Gazette:
http://www.gastongazette.com/articles/goats-72227-kudzu-getting.html