CLAYS FOR CONSERVATION
Presented by Regions Bank
Thursday, April 22 | 8 am – 1 pm
Meadow Wood Farms
Waxhaw, NC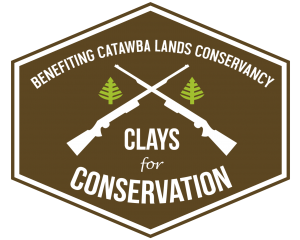 presented by


Join us for the 6th annual Clays for Conservation sporting clays tournament presented by Regions Bank! Escape the office and spend a half-day out on the land at Meadow Wood Farms. The morning tournament is followed by lunch and awards for the winning team (awarded by total score including mulligans) and individual (awarded by individual score not including mulligans).
Social distancing and additional safety measures will be in place to ensure a safe event. See below for Covid-19 safety specifics.
Event proceeds benefit the Conservancy's mission to save land and connect lives to nature!
Entry Fees:
$2,000 for a team of four; $500 for an individual
Includes: breakfast, boxed BBQ lunch, 50 clay course (14 stations), 50 clay flurry, ammo, drinks, snacks and participant gift
EVENT SCHEDULE
8 am: Registration and breakfast
8:45 am: Welcome and safety talk
9 am: Shotgun tournament start
12 pm: Lunch
12:30 pm: Awards and raffle (optional)
EVENT AND PARTICIPANT INFORMATION
WHAT TO BRING:
Please bring a mask, which is required when inside and anytime social distancing is not possible. Disposable masks will be available.
Please bring ear and eye protection, which is required on the sporting clays course.
Your firearm. Rental guns will be available but are very limited and a team may have to share one gun. 12 and 20 gauge ammo is provided.
WHAT TO DO BEFORE THE EVENT:
Required: Complete the required waiver to participate in the event.
Mulligans are available for purchase for $10 per mulligan, max of 2 mulligan per person. They will not be shot on the course but added to your score. We encourage you to purchase them online in advance.
Raffle prizes will be available! We encourage you to purchase tickets online in advance. Raffle winners will be called at 12:30 pm.  You do not have to be present to win.  If you choose to leave before then, we will email/call you.
WHAT IS PROVIDED:
Breakfast, lunch, snacks and beverages
12 and 20 gauge ammo
Participant thank you gift
Hand sanitizer and disposable masks
COVID-19 SAFETY
Meadow Wood Farms and Catawba Lands Conservancy are taking several precautions and making some adjustments for this event due to the COVID-19 outbreak. Clays for Conservation is an outdoor event but to ensure all participants remain safe, we will implement appropriate social distancing, sanitizing and protection methods including:
Participants and Meadow Wood staff will be required to wear masks when inside The Barn and when at least 6 feet of physical distance cannot be achieved outside when they are not eating or drinking. Disposable masks will be available at the event.
Catawba Lands Conservancy staff will wear masks throughout event.
Hand sanitizer will be available throughout the event and on the course.
Breakfast will consist of individually wrapped biscuit sandwiches, whole fruit, bottled water and orange juice and coffee.
Lunch will consist of a buffet BBQ meal that will be plated by the caterer and closed container beverages like soft drinks, sports drinks and water. We encourage teams to sit together under the tent.
Participants are encouraged to sign their waivers and purchase mulligan and raffle tickets online in advance or from their smart phone at the event to minimize in-person transactions.
RAFFLE
Raffle tickets will be available for pre-purchase online and on-site through the beginning of lunch. If you choose not to stay for the raffle announcement at 12:30 pm, we will contact you after the event.
Raffle Prizes:
Stoeger M3500 Shot Gun
Frank Bragg Original Painting on Canvas
Great Outdoors Provision Co. Package
Carolina Sporting Arms Year-long Family Range Membership
Regions Bank Beach Cruiser Bicycle
Participant Package
STEERING COMMITTEE
Tommy Lee, Bill Mumford, Tom Gates, Lud Hodges, Jim Hovis, Palmer McArthur, Scott Phillips, Steve Scruggs
SPONSORSHIP OPPORTUNITIES
Support land and water conservation through a corporate sponsorship and receive recognition for your investment.
2021 Clays for Conservation Sponsorship Package
For more information, contact
Alesia DiCosola
Development Director
704-342-3330 x 205
alesia@catawbalands.org

PRESENTING SPONSOR

VENUE SPONSOR LUNCH SPONSOR GIFT SPONSORS


STATION SPONSORS
Appian Textiles
BGE
Brasfield & Gorrie
CBRE
Edifice
Moore & Van Allen
TEAMS
Carolina Wetland Services
HDR
Lat Purser & Associates
Southeastern Architectural Services
Warco