Novant Health grant brings fresh, healthy food to Lakewood community
Eating an abundance of colorful fruits and vegetables is essential to ensure lasting health. Yet for the residents living in Lakewood, a neighborhood in northwest Charlotte, buying fresh produce isn't easy. Labeled a "food desert," the community doesn't have adequate access to high-quality foods and grocery stores.
Jamall Kinard has only been president of Lakewood Neighborhood Alliance since January, but already he is helping to make sweeping changes for his neighbors by finding a way to bring them fresh produce.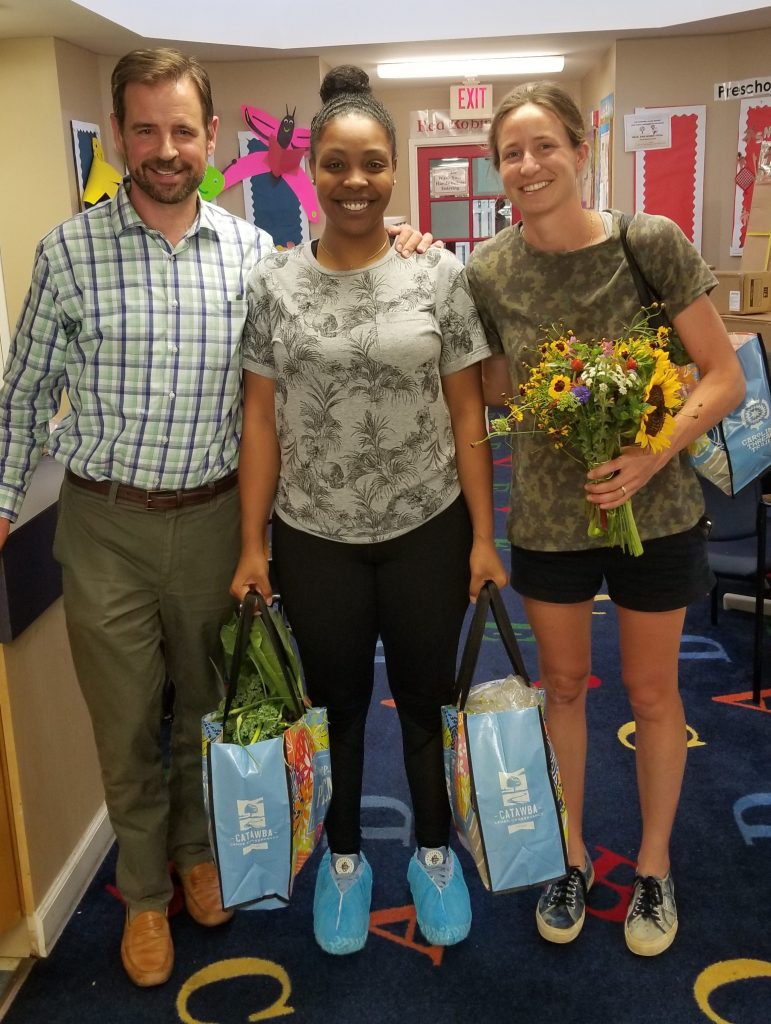 Thanks to a grant from Novant Health, Catawba Lands Conservancy was able to partner with Chester-based Wild Hope Farm to offer
up to 30 Lakewood families per week free farm shares for 14 weeks between September and November. Katherine "Peanut" Belk, who
tackles the finance and operations work for the farm, said one share is equal to about $32 worth of produce and 10-15 different types of fruits and vegetables, depending on what's in season.
Jamall first became connected with the Conservancy through a contact with Lakewood Community Development Corporation. It's a
nonprofit group that has advocated for the completion of a planned Carolina Thread Trail segment in the neighborhood.
"The president of that group connected me with the Conservancy's Executive Director Tom Okel," Jamall said. "I told Tom about the challenges facing us as a food desert and how there aren't healthy grocery options in a seven- to 10-mile radius of our neighborhood. It's too easy to go down to the Chicken King down the street and get highstarch, high-sugar food that's filling but lacks nutritional value."
Jamall emphasized that many of his neighbors, particularly the elderly, do not have the ability to drive or take a bus to a local grocery
store like Publix or Harris Teeter. And even if they can get there, sometimes fresh produce prices are beyond their budgets. So, they
turn to fast and processed food instead.
"Every community deserves to have access to fresh produce," he said. "There's a stigma out there that people of color or of lower economic status don't want fresh produce, but that's just not true. They do want it. If it's more affordable and available, it'll be taken. It's essential to our health."
For its part, Novant Health is always seeking opportunities for innovative approaches to issues facing its communities, according to
Betsy Conway, director of social responsibility. She said this was a wonderful way to address access to healthy food, food security and
nutritional education.
She added the program aligns with Novant Health's environmental investment priority, which focuses on supporting safe and clean
communities by honing in on housing, neighborhoods and food.
"At Novant Health, we know that health starts in our families, our schools and workplaces, in our playgrounds, the air we breathe,
the water we drink and the food we eat," she said. "We recognize we cannot begin to move the needle on health outcomes without addressing root causes that influence health. We are proud to partner with the Conservancy and Wild Hope Farm to expand access to healthy fresh fruits and vegetables for the Lakewood community."
People living in Lakewood pick up the farm shares every Friday at Lakewood Preschool. The food ranged from watermelon and fall
cantaloupes in the early weeks to more leafy greens later in the year. The program promotes healthy eating and living, with each share
feeding a family of four and including health tips and recipes.
"We're educating people about the fact that they live in a food desert and why they live like this," Jamall said. "A lot of times, we create
these words and terms, and the people who live in these situations don't even know what it means."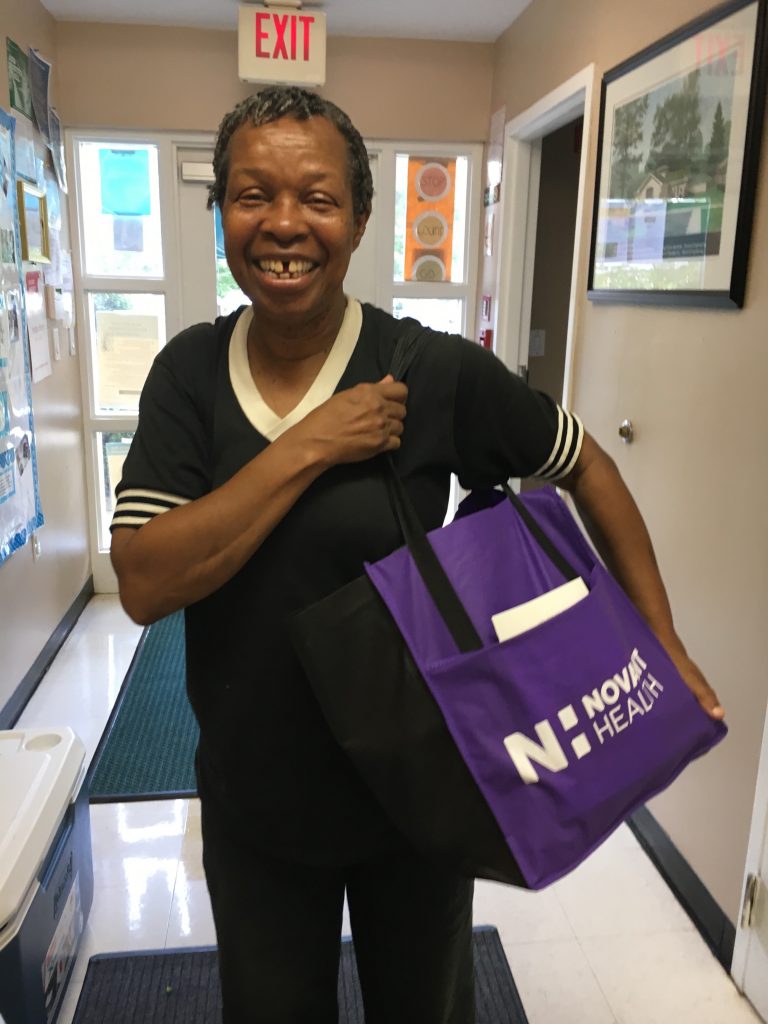 Peanut sends out a weekly email to help those taking farm shares understand how best to cook these vegetables, some of which
they might have never seen on store shelves before.
Peanut's parents, Tim and Sarah Belk, began Wild Hope Farm in the summer of 2016 as an organic operation. When Peanut heard the Conservancy wanted to help provide produce to Lakewood, she was very excited about the opportunity because it fit so well with the family farm's mission. Wild Hope Farm focuses on bringing nutrient-dense food to the community by intentionally building up soil health and turning its land into a productive operation through Community Supported Agriculture. CSAs are systems in which a farm operation is supported by shareholders within the community who share both the benefits and risks of food production.
Peanut first became connected with the Conservancy in fall of 2017 when she donated kale to the annual Taste for the Land event.
Last summer, the Conservancy asked if some of Wild Hope Farm's leftover produce from its farm share program could be boxed up and
donated to Lakewood.
"There was never anything left of what we donated," Peanut said. "The families were all over it, and that was really encouraging."
Typically, those who wish to invest in Wild Hope Farm pay an advance seasonal membership fee to cover the production costs of farming.
They receive a consistent share of fresh produce such as arugula, bok choy, cantaloupe, eggplant, okra, sweet potatoes, tomatoes and watermelon in return. Lakewood residents don't have to pay, however, since the grant from Novant Health covers the cost of their food.
"This project is putting comminuty conservation into action, and was a new opportunity to address a critical need in the community," said Tom Okel, Executive Director at the Conservancy. "When people are struggling for basic necessities like healthy food, they are less inclined to engage with an organization like Catawba Lands Conservancy. So, by doing this project, we were able to help supply healthy food and create a connection with them."
"It's not a permanent solution," Jamall said. "But we hope this program will educate people about healthy eating, provide a better understanding of where food comes from and empower the Lakewood community to advocate for access to healthy food."