By Daisy Maxey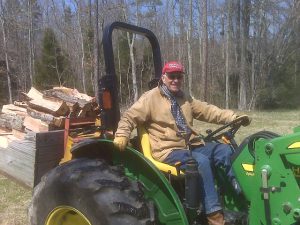 NEW YORK–After suburban sprawl surrounded financial adviser Frank Bragg's 28-acre family farm south of Charlotte, he moved north to a 312-acre farm and vowed he wouldn't let his new property be swallowed up, too.
His decision 12 years ago to preserve his new farm–on which he lives with his wife, four children and 15 grandchildren–for the deer, turkeys, quail and imperiled migratory birds that roam it helped him carve out a niche helping wealthy land owners to reap the financial benefits of conservation easements.
Mr. Bragg, founder of Charlotte-based Bragg Financial Advisors, a registered investment adviser overseeing about $850 million in assets, first heard about conservation easements on fishing trips to the western U.S. He and others at his firm researched their benefits and found these legally enforceable agreements between landowners and qualified land-protection organizations can be used to limit the land's usage in perpetuity and offer the owner big tax benefits.
These voluntary deeds restrict the land's usage by its owner and subsequent owners. An easement might permit the building of two homes as well as farming, hunting, fishing and hiking, for example, but forbid the cutting of certain trees or the building of 100 homes.
But not all conservation easements are the same. In Mr. Bragg's case, he can hunt and fish on his land near Huntersville, N.C., post notices to keep it private and make trails, but neither he nor anyone who owns the land after him may develop it beyond the seven designated house sites now there for his family. The agreement also forbids the cutting of hardwood trees on the property.
The federal government requires that a property with a conservation easement offer some public benefit; for example, the land may offer open space, green space, education or protection of watershed or the habitat of endangered wildlife.
Mr. Bragg's farm serves as an outdoor laboratory for students of Davidson College, a liberal-arts college north of Charlotte, and Queens University of Charlotte. The National Audubon Society also conducts an annual bird count on the property, on which 19 of the 23 at-risk species of summer nesting birds in Mecklenburg County, N.C., have been sighted, said Mr. Bragg.
The easement's value is the difference in the value of the land with and without the restrictions. An owner who puts 200 acres worth $20,000 each under a conservation easement restricting his right to build, for example, may have lowered the value of each acre to just $10,000. As a result, land once worth $4 million is now worth just $2 million. In effect, the landowner has given the land trust, a non-profit organization, a gift of $2 million, and receives a tax deduction of that amount.
An owner's state may also offer a tax credit, as North Carolina does, though state policies vary, said Mr. Bragg.
Property owners considering a conservation easement should first ask themselves whether they will ever need to recognize the land's economic value so that they or their family members will be financially comfortable. If they will, they may not want to enter into such as agreement, he said.
Property owners should also weigh how much they love the land and want it to remain as is, said Mr. Bragg. Owners should be sure they understand a conservation easement's financial impact, including the net tax ramifications, which can be complicated, he said.
Obtaining a conservation easement may take about three months, said Mr. Bragg. That accounts for an appraisal of the property; an inventory of its plants and wildlife, usually conducted by the land trust; time to review the documents, usually prepared by the trust; and, perhaps, have them reviewed by an attorney, he said.
Property owners are asked to make a tax-deductible contribution to the trust, which goes into an endowment, said Mr. Bragg. That stewardship fund enables the trust to enforce the restrictions of the agreement.
An owner obtaining a conservation easement for 200 acres of land may expect to pay about $15,000, including the contribution to the trust, Mr. Bragg said. But trusts often find grant money for owners who can't afford an agreement, he said. A dairy farmer, for example, might have nothing beyond his 120 cows and 200 acres of land, said Mr. Bragg.
Mr. Bragg isn't sure how many fee-only registered investment advisers specialize in conservation easements. Some landowners hire accountants or attorneys to handle the process, he said.
His average client has $3 million to $4 million in assets, and he charges 0.90% annually for asset-management and financial and estate-planning services on $2 million in assets, less for those with greater assets under management. The fee includes conservation-easement work, if needed, he said.
Mr. Bragg said he obtained his easement through the Catawba Lands Conservancy, a Charlotte-based land trust. He now sits on its board and works pro bono to help some landowners, including farmers, obtain conservation easements.
–Daisy Maxey is a Getting Personal columnist who writes about personal finance. She covers topics including annuities, closed-end funds, new trends in mutual funds and advisory firms. She can be reached at 212-416-2237 or at daisy.maxey@dowjones.com