American Hiking Society's National Trails Day is the country's largest celebration of trails. The organization designates June 1 of each year to celebrate trails across the country through volunteer workdays, stewardship events and trail openings. The Carolina Thread Trail (The Thread) will be participating in this event with two volunteer workdays, one in Lincoln County and in Cabarrus County. We will host a trail opening at our Buffalo Creek Preserve on June 1 at 11:30 a.m., which is a segment of the Carolina Thread Trail!
BUFFALO CREEK PRESERVE TRAIL OPENS! The Buffalo Creek Preserve Trail is a scenic natural surface trail that weaves through an oak savannah and young pine forest, and is located in the town of Mt. Pleasant in Cabarrus County. Housed on conserved land protected by CLC, this 2-mile trail provides a natural buffer for Adams Creek and a great path for jogging and walking. Corporate partners like Duke Energy, Bank of America, Wells Fargo, REI and Husqvarna engaged their employees and resources to also help build this trail. The oak savannah was created by a prescribed burn conducted by CLC last fall. Today, native wildflowers and grasses are sprouting, ideal cover and food for insects and birds.
Buffalo Creek Preserve is located at 8510 Malibu Rd. near the intersection of Mt. Pleasant Road South and Malibu Road. After the workday activities conclude, around 11:30 a.m., families and children are welcomed to be among the first to jog, walk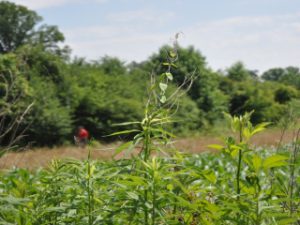 or run this new beautiful national surface trail. A brief ribbon cutting will also be held. We look forward to seeing you there on June 1!
COME OUT AND CELEBRATE WITH US!
Register for these volunteer workdays scheduled for National Trails Day with The Thread:
Volunteers are needed at Buffalo Creek Preserve on Saturday, June 1 from 9 a.m. to 12 p.m. Assistance is needed to create the trailhead area, install mile markers and fence the parking area. Also on June 1 from 9 a.m. to 12 p.m., a work day will be held on the Sally's YMCA Trail, in Denver, NC.