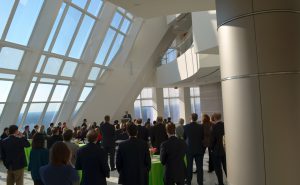 Catawba Lands Conservancy (CLC) is pleased to announce that Duke Energy will issue another $50,000 corporate challenge grant to help facilitate donations from other local businesses and companies in the region. This is the second consecutive year Duke Energy has issued this challenge grant.
The grant announcement was made at CLC's Annual Corporate Breakfast held on March 6 at which Duke Energy Chairman, President and Chief Executive Officer Jim Rogers said his company remains committed to local land conservation, sustainability efforts, and protecting our region's natural resources. The grant is an effort to help inspire other corporations and businesses to also support local conservation efforts. Duke Energy will match donations dollar-for-dollar, up to $50,000.
Richard "Stick" Williams, president of the Duke Energy Foundation and vice president of corporate community affairs, said the grant further demonstrates Duke Energy's commitment to CLC and the health and vitality of our Southern Piedmont home.
"We believe in partnering with and investing in organizations that also care about the quality of our region and protecting limited land, resources and water sources," said Williams.  "As corporations and businesses, we must do our part to help keep our region economically competitive and naturally healthy. Land conservation is one area we agree achieves both."
In 2012, the challenge grant helped attract 17 new corporate partners and increased support from existing supporters, resulting in a 40 percent increase in financial commitments for CLC. Duke Energy also increased its employee volunteer hours in 2012 to support stewardship and trail building efforts.
"We appreciate and thank Duke Energy for its unwavering commitment to Catawba Lands Conservancy," said CLC Executive Director Tom Okel. "This grant has helped generate important partnerships that resulted in securing significant donations, acquiring land projects and raising awareness for our conservation and trail efforts. We are incredibly grateful for our long-term partnership with Duke Energy and for the support from our other business and community partners."
Each year, CLC invites its corporate, foundation and government partners to a breakfast to thank them for their commitments, introduce new partners to land conservation, and highlight the accomplishments and successes achieved by CLC and the Carolina Thread Trail from their support. CLC has a total of 70 corporate, foundation and government partners. This year's breakfast was hosted by Duke Energy in Uptown Charlotte.