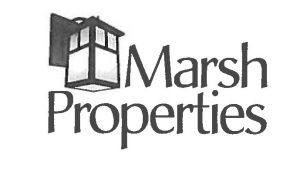 Marsh Properties is the first company to donate towards the corporate fundraising challenge!
It didn't take long for Marsh Properties to realize the importance of giving to Catawba Lands Conservancy (CLC) in support of the Duke Energy $50,000 Corporate Challenge Grant.
The grant challenge was announced on March 29, 2012, at the 2012 CLC Corporate Breakfast to encourage the business community to support local land conservation and stewardship efforts. In a letter to CLC dated March 30, Marsh Properties President Jamie McLawhorn said his company is pleased to support conservation efforts.
"We are happy to support the work of the Conservancy," said McLawhorn. "We wish [Catawba Lands Conservancy] much success in securing corporate support to obtain the full proceeds of the challenge grant."
Marsh Properties is a family-owned business that owns and manages more than 1,700 residences in Charlotte, along with shopping centers and office buildings. Their properties are built "upon the land our family has lovingly preserved for more than four decades." The Marsh family prides itself "on creating inviting, friendly neighborhoods throughout Charlotte."
"We know the Marsh family and Marsh Properties understands and values our commitment to enhance the quality of life in our region through conservation and smart growth," said Tom Okel, executive director for CLC. "We appreciate their commitment, support and generous donation."