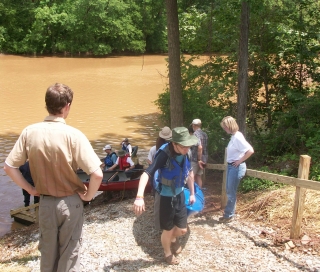 The Community Foundation of Gaston County recently awarded a $17,500 grant to Catawba Lands Conservancy for the construction of a new kayak/canoe landing dock at the R.Y. McAden take-out.
Opened to the public in 2009 as CLC's first canoe/kayak launch, the Spencer Mt. River Access provides a convenient and safe launch for canoe and kayak users to a five-mile blueway trail on the South Fork Catawba River that is part of the Carolina Thread Trail. Funding from this grant will improve the take out at the end of this blueway; this location is called the R.Y. McAden take out and is located in McAdenville in Gaston County.
The take out will be enhanced to include a floating landing dock and trail access to the dock. Constuction work will also decrease the grade of the trail access, making it easier for you to exit the dock with your canoe or kayak.
We will keep you updated on construction, as this will be a great improvement at this location. CLC thanks the Community Foundation of Gaston County as a great partner and for its continued support!