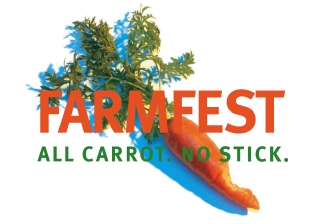 The Mount Holly Farmers Market is holding its fourth annual fundraising event, FarmFest12. Featuring local foods and chefs, popular area bands, games and nature hikes, this year's celebration will be held on Saturday, Oct. 6, from 2-10 p.m. The event has become very popular, adding more attendees each year from Gaston and surrounding counties.
FarmFest is held each October on Redlair Farm and Forest, 144 Redlair Lane in Gastonia, a 728-acre preserve permentatly conserved by Catawba Lands Conservancy. Redlair is owned by Haywood Rankin and his family. This beautiful, pristine forest and farmland borders the South Fork River and is home to many beautiful plants, trees, ponds, pastures and trails. In fact, one of the largest collections of Big Leaf Magnolias in North Carolina calls Redlair home.
Attendees can take hikes through the property guided by Mr. Rankin himself. This natural, protected sanctuary is the perfect setting for a festival honoring nature, local farmers, and conscientious stewardship of our land.
This year's lineup of chefs and caterers include:
Harvest Moon Grille Food Cart, from one of Charlotte's most popular restaurants
Bocca Felice and chef Gina Gutherie
Apple Orchard Farm, serving owner Art Duckworth's traditional Southern BBQ
Market Fresh Catering featuring the seafood cuisine of Michael Casagrande
Simply Local, a retail grocer offering great local foods and goods
Lollies, locally grown and produced, all-natural ice pop
This year's music lineup features Gaston County native Caleb Davis, a superb singer, songwriter and guitarist; and national recording artist Mark Crozer & The Rels. Additional bands are being added, but not confirmed at press time. The performers begin in the late afternoon, providing a night of music under the stars. Dozens of people of all ages find themselves dancing in front of the stage.
Also popular among many attendees is the Corn Hole tournament. Set in a peaceful pasture with the forest as a backdrop, children of all ages have plenty of room to play, while adults spread blankets or set up lawn chairs to relax and enjoy the festivities.
Tickets are $20 per person before the event, and $20 at the gate. Admission includes food, music and nature hikes. Iced tea, coffee and hot cider are available and BYOB is permitted.
For more information, visit the Mount Holly Farmers Market Facebook page at FarmFest12, or call 704-609-0666. Tickets can still be purchased at Charlie's Drug Store and Time Flies, both in Mount Holly.