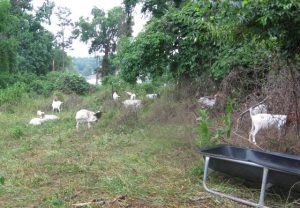 A hungry herd of 50 goats spent all of June and a few weeks in July eating nuancing kudzu plants and vines from Catawba Lands Conservancy's (CLC) Seven Oaks Preserve. The goats were able to clear nearly 10 acres of kudzu within a five-week period.
"We are pleased with the progress that the goats made at the preserve and are investigating ways we can do this type of removal again in the near future," said Sean Bloom, GIS director for CLC. "We thank Duke Energy for this grant that funded this effort to reduce and eliminate the kudzu."
The 77-acre protected preserve provides a natural filer for water draining into Lake Wylie in Gaston County, an important water source for the Charlotte, N.C. metro region.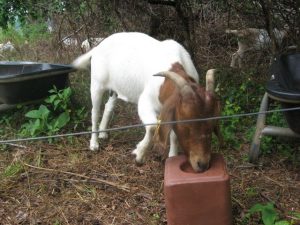 This environmentally sensitive removal of kudzu was funded by a $10,000 Habitat Enhancement Program Grant from Duke Energy. CLC was awarded the grant in the fall of 2011. The goats are from Wells Farm in Horse Shoe, NC.
Kudzu is an invasive plant species native to Asia that has been problematic in southeastern United States for decades. The plant's vines grow rapidly over trees and shrubs and kills them by heavy shading. However, kudzu is high-quality fodder for livestock and other grazing animals, thus the reason why goats are so effective for its removal.
"This project is so important to help us restore this land to a healthier natural state while supporting our community partner, Daniel Stowe Botanical Garden, in their efforts to protect and enhance their grounds," said Sean.
About 25 goats were used to clear a two-acre kudzu-infested section of the preserve near the Daniel Stowe Botanical Garden, to prevent the kudzu from spreading into the Garden. The Garden is a major attraction in the region known for its preservation and cultivation of rare and pristine flowers and plants. Several visitors to the Garden were able to view the goats in action eating the kudzu.
"The Garden has always been interested in and motivated to use innovative invasive control methods," said Peter Grimaldi, the Garden's horticulture manager. "We already use an integrated pest management approach that is environmentally friendly. The use of goats to control invasive kudzu is a continuation of that."
In July 2011, CLC partnered with the Garden and Clean Water Management Trust Fund to conserve Seven Oaks Preserve. This wooded land serves as an important wildlife habitat corridor and protects clean water. The preserve connects the Garden with Lake Wylie and will host a 2.3-mile segment of the Carolina Thread Trail.
Now that the goats have eaten most of the kudzu, CLC staff will be able to assess the soil and tree conditions for damage and erosion. To prevent regrowth, targeted herbicide will be used to completely kill the kudzu's extensive root system.