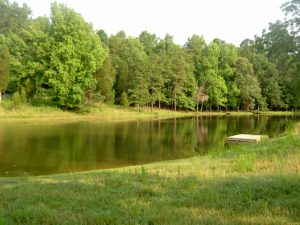 When big companies work closely with residents to do good in the community, they usually use every available resource to let the public know about it. Surprisingly and thankfully, that's not always the case. So, Catawba Lands Conservancy (CLC) will do it for Piedmont Natural Gas (PNG) to thank the company for being a good community partner and supporting conservation throughout our region. Here's a wonderful story that highlights the company's strong commitment to conservation. 
In early April, CLC Landowner and Board Member Dr. Tom McCoy awoke to the grinding engines of tractors and bull dozers near his property in Mecklenburg County. Contractors, working for PNG, were about to start installing a federally required security fence to protect the company's natural gas storage facility.
With the necessary permits already obtained, PNG was ready to erect an eight-foot tall fence along Tom's family farm and pond along McCoy Road. A portion of his property, the 50-acre McCoy Farm, is currently permanently conserved via a conservation easement with CLC. The easement protects this working farm – one of only a few that remain in Mecklenburg County – which has been continually farmed by the McCoy family since 1770.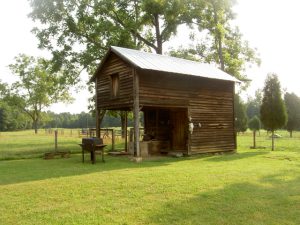 The farm also includes the homestead and outbuildings of Albert McCoy (Tom's great-grandfather) which were built in 1886 by locally renowned builder John Ellis McCauley. This property is listed on the U.S. Department of the Interior's National Register of Historic Places, Charlotte-Mecklenburg Historic Landmarks Commission's registry and is designated as a Century Farm by the state. Gar Creek – which flows into the Charlotte region's primary drinking water source, Mountain Island Lake – runs through the farm.
The proposed location of the fence could have jeopardized the federal historic designation of the farm, hindered sensitive pond and creek water quality areas, and obstructed the property's scenic views. So, the McCoy family took action to request the fence be rerouted just 200 feet west of the pond and historic homes. They talked to the contractor, reached out to PNG officials, took photos, wrote letters, made phone calls and sent emails to family, friends and Huntersville's elected officials to help sustain the farm's conservation values.
"We reached out to everyone we could think of that could help convince PNG to relocate its fence. Our goal was to make every effort to inform PNG of our farm's significance and importance, not just to our family, but to this region," said Tom. "PNG has been a good neighbor to us for years. I just think they didn't fully realize how their fence, right at our property line, could have greatly affected the historic and natural qualities of our property."
U.S. Congressman Robert Pittenger, Huntersville Mayor Jill Swain and CLC's Tom Okel agreed and were among those who contacted PNG.
Within few weeks, Tom McCoy received a call from Victor Gaglio, senior vice president and chief utility operations officer for PNG, who agreed to meet, toured the farm with Tom, and decided his company would relocate the fence and sell a portion of its property (a 23-acre tract where the fence was going to be located) to the McCoy family. Victor and Jim Adkins, who is in charge of the company's real estate department, worked closely with Tom and his family to complete the relocation and property sale.
"It was wonderful to work with them, because they also valued and appreciated our farm and this historic land. We're extremely thankful to everyone who helped and PNG for its commitment to conservation and working with landowners to do the right thing. They didn't have to sell the property or relocate the fence, but they did it anyway. We're so grateful they did."
Mayor Swain, whose planning staff worked closely with the McCoys and PNG on this project, said the town is proud of this result.
"I am very appreciative of Piedmont for showing their appreciation of the value Huntersville puts in historical and rural sites," she said. "The fact that we were all able to have open communications with Piedmont speaks volumes to their commitment to working with all of us who are concerned about conservation issues."
The property sale is now complete and the installation of the security fence is underway. The fence will be relocated more than 200 feet from the McCoy Farm property line, helping to keep the conservation values of the farm permanently intact. And, the additional 23 acres added to the farm will soon also be preserved forever.