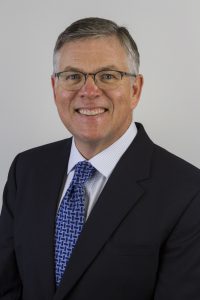 George D. Kimberly, Jr. has joined Catawba Lands Conservancy (CLC) as its new land acquisition director. Kimberly brings distinct business, community and leadership skills, and a strong commitment to land conservation to CLC.
Kimberly, a native of North Carolina and member of the North Carolina State Bar, was most recently the executive director of the Edisto Island Open Land Trust in Edisto Island, SC.
His primary responsibilities will include advancing CLC's land protection goals through direct execution and implementation of the land acquisition process. This process allows CLC to effectively pursue, evaluate and negotiate land projects for conservation. He'll also oversee landowner outreach initiatives and lead the board's land acquisition committee.
"I am delighted to join Catawba Lands Conservancy and Carolina Thread Trail team," said Kimberly. "As a native of the Western Piedmont, I am especially excited about returning to North Carolina and working to preserve the conservation resources of the region."
While leading efforts at Edisto Island Open Land Trust, he managed the development of new land protection criteria and strategies, and increased fundraising efforts for the land trust. He also held many leadership roles in several national and regional organizations, including ACE Basin Task Force and Trout Unlimited, Inc., that are dedicated to land and natural resource conservation.
"It has been a privilege for me to serve as the executive director of the Edisto Island Open Land Trust for the past three years and to be involved in local and regional efforts to preserve the scenic and historic qualities of the South Carolina Lowcountry," he said.
Kimberly has B.A. and Juris Doctorate degrees from Wake Forest University and a Certificate in Non-Profit Management from Duke University. Kimberly and his wife, Karen, are "happy to be back home" near many family members and friends. His first day at CLC was Feb. 4.
"Our success is deeply rooted in the strong foundation, leadership and skillsets of our board and staff members," said CLC Executive Director Tom Okel. "CLC is so fortunate to have the talents and abilities of George as a great leader and ambassador for our local land conservation efforts."
George can be reached at 704.342.3330, ext. 212 or george@catawbalands.org.