CLC is Applying for its Reaccreditation
A public comment period is now open through early next year.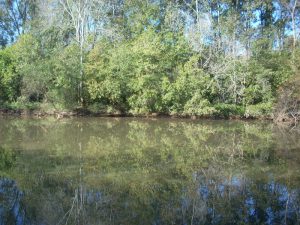 The Land Trust Alliance's Land Trust Accreditation Program recognizes land conservation organizations that meet national quality standards for permanently protecting important natural places and working lands.
In 2009, CLC became accredited and was among the first land trusts in the nation to receive the designation and one of only two land trusts awarded accreditation in North Carolina. Today, there are 207 accredited land trusts nationally, 12 of which are in North Carolina.
CLC is currently in the process of applying for reaccreditation. During this renewal process, Land Trust Accreditation Commission, an independent program of the Land Trust Alliance, will conduct an extensive review of CLC's policies and programs to ensure that operations remain thorough and streamlined for effective land conservation. If CLC's procedures continue to meet national quality standards, CLC will remain an accredited land trust.
"In this time of economic uncertainty, individuals want to be sure their donations are being wisely used and leveraged as effectively as possible," said Tom Okel, executive director of CLC. "Because we greatly value the public's trust in our organization, the accreditation status helps reassure donors and stakeholders that we are financially and sustainably accountable in our conservation processes. So, this reaccreditation is very important to our work and we welcome the public's comments."
A comment period is now open and the public can send information, comments and feedback about CLC's reaccreditation application to the Commission. Comments must relate to how CLC complies with indicator standards and practices. These standards address the ethical and technical operations of a land trust.
The Commission can accept electronic and written comments on CLC's pending reaccreditation application. To submit comments electronically, go to the Commission's website: www.landtrustaccreditation.org. Select the 'Submit Feedback' button and then select the 'Comment on an Accredited Land Trust or Applicant for Renewal' link. Or,
click here.
Comments may also be mailed or faxed to the Land Trust Accreditation Commission, Attn: Public Comments, 36 Phila Street, Suite 2, Saratoga Springs, NY, 12866. The fax number is 518.587.3183. Please submit comments on CLC's application by Jan. 3, 2014.