Newton was free 'as a bird' last night. Spreading his wings, he gracefully flew to a tree within Catawba Lands Conservancy's Long Creek Conservation Area within ReVenture Park™ – a suitable habitat in which Newton could call home.
Newton, a rehabilitated barred owl was released back into the wild on Oct. 16 after months of medical attention and rehabilitation to his damaged wing. The owl was found in Mecklenburg County after being hit by a car and was admitted to the Carolina Raptor Center's Rehabilitation Center in June.
CLC's 175 acre permanently conserved natural area within ReVenture Park hosts a variety of trees and natural habitat areas while also providing significant watershed protection that helps keep our waterways clean – making it the perfect setting for the release. This conservation area also hosts a 2-mile segment of the Carolina Thread Trail that connects to other trails at the U.S. National Whitewater Center.
"When we permanently protect land, it's a conservation benefit for the entire community as well as for the wildlife which can call that natural area home. This is especially important within our region's most dense population centers like Mecklenburg County," said Tom Okel, executive director for CLC.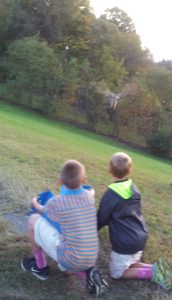 According to the Carolina Raptor Center's Philanthropy Manager Heather Moeller the area provides an ideal habitat for this owl to live and thrive. She also said discarding food on roadways – even a piece of gum – from our vehicles is one of the top reasons why raptors are injured. "We all can take small steps to ensure that we are doing our part to help raptors survive. Just by properly disposing of trash, we can make a significant difference in their injury rates." (For more information: www.carolinaraptorcenter.org)
As the developer for ReVenture Park, Tom McKittrick, President of Forsite Development adds, "We are delighted to be able to provide a thriving environment for the rehabilitated barred owl. Environmental stewardship is at the core of everything we are doing at ReVenture. We have committed to multiple wildlife habitat enhancement projects throughout the park and have received the Wildlife and Industry Together (WAIT) certification by the NC Wildlife Federation." (For more information: www.reventurepark.com)