Public Comment Period Underway for CLC's Reaccreditation
August 14, 2013
Volunteers Needed for Suspension Bridge Build
August 16, 2013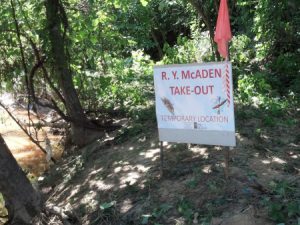 ATTENTION South Fork Catawba River (South Fork River Trail) Users: The recent high water on the South Fork Catawba River unfortunately damaged the dock at the R.Y. McAden Take-Out. Paddlers are welcome to exit the river using the existing gravel path or use a NEW TEMPORARY TAKE-OUT location approximately 20 feet downstream from the gravel path.
There's signage and red-and-white flagging to identify the new exit point. Remember to have fun, but exercise caution on the river and always be careful in this area near the dam!
This take-out is at the end of a 5-mile blueway trail (the South Fork River Trail) that is part of the Carolina Thread Trail. The start of this trail for kayakers and canoe users begins at the Spencer Mt. Access Launch. Most of the shoreline along this stretch of the river is conserved by CLC. We're currently working on plans to build a new take-out dock at the original R.Y. McAden Take-Out location. We will keep you posted on the progress. In the meantime, please safely use the temporary location for your convenience.