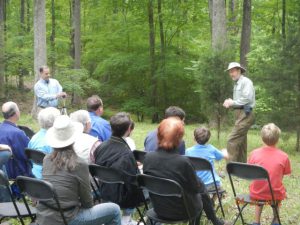 Thank you to everyone who came out on Saturday, April 28, to attend our Annual Meeting and Hikes at Redlair Farm & Forest. We were glad you all came out!
Everyone had a great time meeting new people, and meeting new and current supporters, landowners and friends. It was great sharing stories about Catawba Lands Conservancy's successes and future plans, while voting in our new board members.
Thanks to our hosts, Haywood and Sabine Rankin, for welcoming everyone to their beautiful Redlair Farm & Forest! Everyone also enjoyed the hikes within this pristine natural area.
We're looking forward to seeing you all again at other events and activities this year. So, stay tuned for other ways to stay engaged and get involved.
Thanks for your support and commitment to CLC!