The Fork Farm and Stables (The Fork), a 1,406 acre regional outdoor recreation, working farm and event facility in Stanly County, will now be conserved forever thanks to a donation to Catawba Lands Conservancy (CLC) by an ownership group led by Jim Cogdell, chairman of the N.C. Wildlife Resources Commission.
A permanent conservation easement on 1,353 acres of the property will allow continued recreational uses of The Fork, but will restrict future commercial, industrial development and other activity that could impact the land and wildlife habitat.
The Fork is an actively managed wildlife and recreation facility used for U.S. Equestrian Federation national and international events, sporting clays, fishing, hunting, recreational shooting, agriculture, biking, hiking and outdoors education.  The Fork was recently named the 2012 Conservation Business of the Year by the North Carolina Wildlife Federation.
The property includes 35 miles of hiking trails, a meeting facility and a bed-and-breakfast lodge. The Fork attracts thousands of visitors yearly and has served as one of the region's most active facilities for education on wildlife management, animal husbandry, hunter safety and conservation.
Cogdell has been passionate about using The Fork as an educational resource for youth, as well. The Fork has been active in training and assistance for teams participating in Youth Hunter Skills Tournaments, a component of the Wildlife Commission's Hunter Education Program, for pre-collegiate shooting sports competition. Teams and individuals annually compete in rifle, shotgun and archery marksmanship, map-and-compass orienteering, and a written wildlife knowledge test.
Named for its location at the confluence of the Pee Dee and Rocky rivers, The Fork is a biologically rich land of historical importance, with natural resources and high quality habitat for myriad species. Conserving The Fork protects the natural habitats for fish, wildlife and plants; saves hundreds of acres of active farmland and 751 acres of upland forests; safeguards the rivers' water quality and watersheds, and preserves open space and public lands for outdoor recreation and education.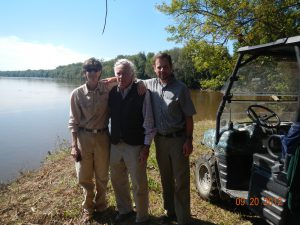 Ten different species that are recorded on the North Carolina Wildlife Action Plan Priority Species list – including the American bald eagle, pileated woodpecker, Eastern king snake and Eastern box turtle – call The Fork home. The property is adjacent to a planned future segment of the Carolina Thread Trail.
Within a five-mile radius of The Fork, 9,900 acres of other biologically rich lands are already conserved with the Land Trust for Central North Carolina (LTCNC).
When Cogdell purchased The Fork 14 years ago, he envisioned that one day the area's natural beauty, conservation values, public amenities and rich history would be celebrated as a regional asset. But more importantly, he always desired the property be conserved in perpetuity.
"It means so much to know that finally the hard work and effort to make this area a premiere wildlife and natural destination will remain this way forever," Cogdell said. "This area is special to me, my family and the many people who enjoy coming to The Fork to enjoy nature. Conserving this land now will only make it naturally better and attract more people and families to visit and enjoy The Fork for decades to come."
Although The Fork is out of its primary service area, CLC worked in collaboration with LTCNC due to the property's location adjacent to a planned segment of the Carolina Thread Trail.
"The permanent preservation of this magnificent area would not have been possible without the vision and commitment of Jim Cogdell," said Tom Okel, executive director of Catawba Lands Conservancy. "Jim has been a leader in conservation for North Carolina and his passion for saving quality land is evident through the fantastic work he has done to make The Fork a haven for wildlife and place where many people can explore and learn from nature – today and always."
The Fork, located at 3200 Fork Road in Norwood, offers a variety of outdoor activities and educational classes to the public. Call 704-474-4052 or visit www.forkstables.com for more information.