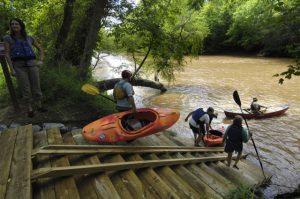 Thanks to everyone who submitted suggestions and feedback regarding the Spencer Mt. River Access closure.
This access launch, which temporarily closed on June 29, is still closed. However, please keep the comments coming in, as Catawba Lands Conservancy is still listening and considering viable options for the best methods to safely reopen the access site.
We will temporarily reopen the access site to test a 'pass' system. Our goal is to test a few different options and scenarios to see which would work best prior to completely reopening the access launch. We are also investigating various sign options so that the safety rules are even more visible and clear to the public. We will provide more details soon and keep you updated as we investigate these options. Our goal is to temporarily reopen the Spencer Mt. River Access soon, but a definitive date has not yet been set.
Catawba Lands Conservancy appreciates the community's patience and understanding. Please call 704-342-3330 if you have questions or suggestions regarding this closure.