Catawba Lands Conservancy and Carolina Thread Trail are pleased to announce Bart Landess as the new executive director starting March 1.
Bart brings nearly 30 years of fundraising and nonprofit experience to his new role. He comes to the Conservancy and the Thread Trail from the YMCA of Greater Charlotte where he has served for eight years as Vice President of Major and Planned Gifts. Prior to this, Bart worked at the Foundation For The Carolinas in development and planned giving.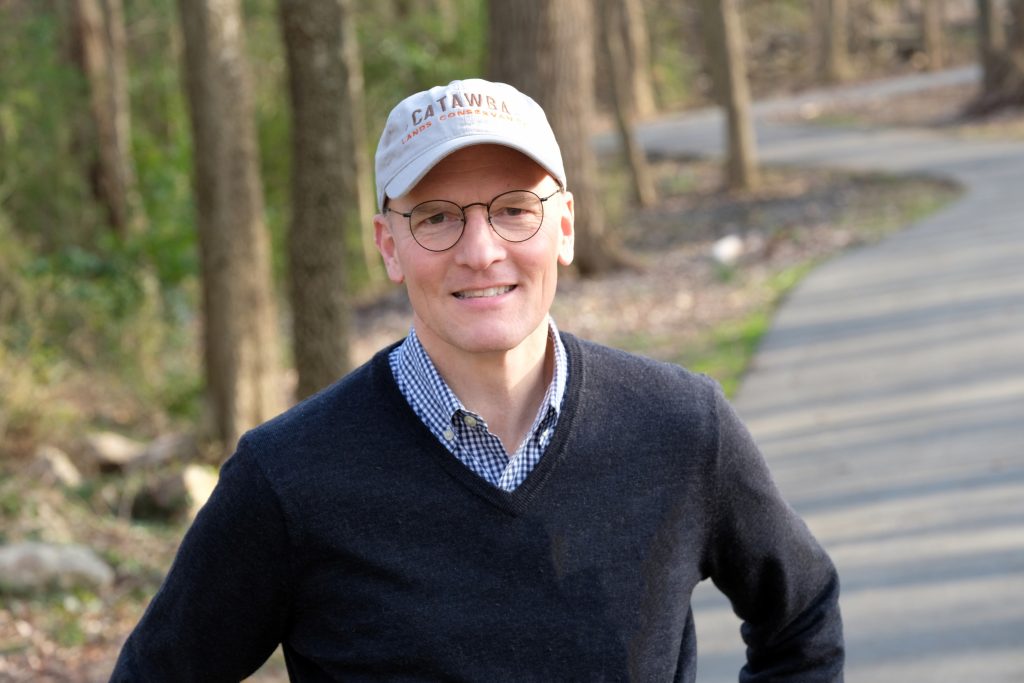 Bart is a graduate of Davidson College, where he also worked as Assistant Vice President of Major and Planned Gifts, then General Counsel and the President's Executive Assistant. Prior to that he practiced law at Smith Helms Mulliss & Moore.
He received his law degree from the University of Virginia in Charlottesville. Bart has always been a lover of the land. Bart, his wife Fran and his four children, Elinor, Cliff, Freddy and Lee, enjoy the outdoors, especially skiing.
"I am honored to lead these organizations that are working to preserve clean water, greenspace, land for recreation and quality of life in our region at such a critical time when Charlotte is growing so rapidly," said Bart.
A search committee, led by Jim Hovis (Conservancy board member) and composed of Conservancy and Thread Trail board members, worked with executive recruiting firm Coleman Lew to find Bart.
Kelly Katterhagen, Conservancy and Thread Trail board member and a search committee member, said, "You look at Bart's work experience, and it's almost as if he was training for this job his whole career."
"Bart was at the Foundation For The Carolinas when the Thread Trail was launched and comes to the table with a good background and understanding of the project, which few others could duplicate," said Alex Rankin, chair of the Thread Trail Governing Board.
"But what really sealed the deal during his interview was his enthusiasm – even in the first interview his head was already in the position, he was asking challenging questions and exploring his ideas on how both organizations could grow their missions and resources."
Bart is former chair of the North Carolina Planned Giving Council. He's a founding member of the Institute of Philanthropy and Leadership Gift School and a former board member of Legal Services of the Southern Piedmont (now Charlotte Center for Legal Advocacy) and former Deacon and Elder of First Presbyterian Church. He was part of the American Leadership Forum's Charlotte Class V.
Please join us in welcoming Bart to the Catawba Lands Conservancy and Carolina Thread Trail family! Bart's commitment and dedication to making our region a great place to live makes us optimistic and excited about what the future will hold with him at the helm.