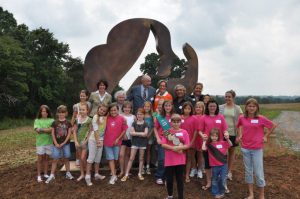 Catawba Lands Conservancy and the Girl Scouts, Hornets' Nest Council (Council) are pleased to announce the conservation of more than half of the Council's Dale Earnhardt Environmental Leadership Campus at Oak Springs (Oak Springs) in Iredell County.
A conservation easement now permanently protects 358 acres of the 673-acre Oak Springs property, protecting it forever from future development. Oak Springs is a regional destination for Girl Scouts and provides camp activities and educational experiences for girls from Anson, Cabarrus, Mecklenburg, Montgomery, Rowan, Stanly, Union and York, SC counties. On average, about 200-300 girls participate in activities there every weekend from March through November.
The easement protects the property's conservation values, while allowing the Council to continue using the property and plan for future expansion. The 358 acres were purchased in part with a $620,000 grant from the North Carolina Clean Water Management Trust Fund, with the remaining value of the property donated to CLC.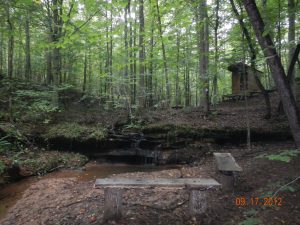 "One of our four local program focus areas is Environmental Leadership; conservation of this land furthers our efforts to help girls live part of the Girl Scout law – 'to use resources wisely,'" said Sally Daley, chief executive officer of Girl Scouts, Hornets' Nest Council.
A portion of the protected area is designated a NC State Significant Natural Heritage Site – an area of special biodiversity importance identified by the NC Natural Heritage Program to protect the natural habitat of rare plant and animal species. Four bird and one turtle species listed on the NC State Wildlife Action Plan Priority Species List– the eastern box turtle, northern flicker, red-headed woodpecker, American kestrel and eastern meadowlark – benefit from this high quality habitat for breeding and survival. The area also protects three special status plant species that have experienced commercial collecting and poaching.
The conserved area also provides watershed protection with two miles (10,819 ft) along the South Yadkin River and three miles (15,092 ft) of streams; offers a forested viewshed for local neighborhoods and trail users; and connects people to nature via access to recreation and education activities. A future 2-mile segment of the Carolina Thread Trail will be built, with plans to complete construction by the end of 2013.
"We are extremely pleased to preserve this beautiful and important natural land within an area that is so vital to the educational growth and development for so many young girls within our region," said Tom Okel, executive director for CLC. "Conservation is a gift that keeps on giving. With the addition of the Carolina Thread Trail to this property, so many people will have direct access to this special area to explore, learn and benefit from for generations to come."
This project is part of several ongoing conservation efforts within the area, with the Land Trust for Central North Carolina having conserved 610 acres near Oak Springs and the Allison Woods Foundation working to establish and environmental and historical education facility nearby.