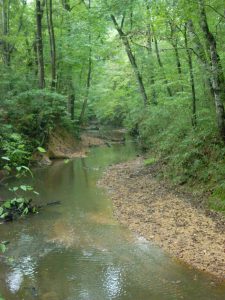 Catawba Lands Conservancy concludes 2012 with conservation projects and initiatives that are benefiting the region and engaging local communities  
Catawba Lands Conservancy ended 2012, its 21st year in operation, having completed three local land conservation projects which make great strides in protecting watershed and wildlife habitat. Significant efforts were also made to advance other initiatives important to its mission of saving land and connecting lives to nature.
The projects conserved in 2012 (see below) are in counties within CLC's service area – one in Iredell and two in Mecklenburg – and total 455 acres. Of which, 435 acres preserve diverse and sensitive wildlife habitats and 281 acres help protect and restore riparian buffers along portions of the Catawba and Yadkin-Pee Dee watersheds. The properties will also provide 2.5 miles of future trail for the Carolina Thread Trail (The Thread) and protect various species listed on the NC State Wildlife Action Plan Priority Species List. CLC now permanently conserves 163 properties that total 12,811 acres. 
Funding for land conservation comes from local, state and federal funding sources or grants – like the North Carolina Clean Water Management Trust Fund – and from public, private or corporate donations. Once acquired, land is protected in perpetuity. CLC's conservation efforts save local farmland, enhance water quality, protect regionally important or sensitive habitats and connect people to nature via trails and greenways. 
CLC focused efforts on raising awareness and connecting more individuals to its mission in 2012. The Catawba Corps, a new membership group aimed at increasing volunteerism and support launched its first annual fundraiser, Taste for the Land. Piedmont Natural Gas was the title sponsor for the event.
Efforts on two other significant initiatives, The Carolina Thread Trail and TreesCharlotte, also advanced. The Thread celebrated its fifth anniversary and 100 miles of open trail with an event acknowledging community partners and local governments for their role in starting and sustaining the region's trail network. Last year, 12.5 miles of new trail were completed; to date there are 113 miles and 62 trails open to the public as part of The Thread. About 230 trail enthusiasts participated in the 1st Annual Tread the Thread 5K Trail Race, which raised dollars for trail construction and introduced new volunteers and supporters to The Thread. Open trail segments are now easy to locate on a new web based, interactive map located at carolinathreadtrailmap.org. Trail users can find trails or greenways by location, use and level of difficulty. Also, The Thread increased volunteer efforts, including in its Trailheads and Trail Masters programs. CLC is the lead agency for The Thread.
Former CLC Executive Director Dave Cable now leads a new public/private collaborative effort, called TreesCharlotte, tasked with preserving and increasing the City of Charlotte's tree canopy. CLC manages a component of this effort, called NeighborWoods, which has a goal to increase tree plantings yearly – to 3,500 trees annually beginning in 2016 – through volunteer events in neighborhoods across the city. Approximately 450 trees have been planted since the preliminary launch of NeighborWoods last spring. This effort helps ensure that Charlotte's tree canopy will continue to enhance our community and environment.
"Any year when we are preserving land and advancing efforts to increase awareness and support is a great year for conservation and trails in our region," said CLC Executive Director Tom Okel. "We added more conserved land within our service area and increased initiatives to continue growing a broad level of support for our efforts. Together these efforts make a permanent and sustaining contribution to improving the quality of life across our region."
Okel also credits the support from CLC's donors, and corporate and community partners with helping to balance conservation during what continues to be a tough economy but  a critical window of opportunity to conserve land.
"We are pleased to be experiencing an increase in donations and corporate support, which we've been able to leverage every dollar into protecting $10 worth of conserved land – so very critical as we continue to seek land deals in our current real estate market," said Okel. "Seeking land now is especially critical as our state population continues to grow and funding for conservation remains limited. So, we're increasingly grateful for the community support that will leave a lasting legacy."
Listed below are the properties CLC conserved in 2012:
DiMicco Preserve Addition – Mecklenburg County
The 77 densely wooded acres on this preserve host a mix of dry pine-oak and mesic mixed continuous hardwood forests and early successional habitat. Along with an adjacent 31-acres conserved in 2011, more than 100 conserved acres provide ecosystem services that enhance water quality for Lake Wylie. The habitat hosts a variety of wildlife, including several bird species and the eastern box turtle, that are included on the NC State Wildlife Action Plan Priority Species List.
Girl Scout Hornets' Nest Council Conservation Easement – Iredell County
Many young girls from across the region will forever experience the benefits of the 358 conserved acres on the Girl Scouts' Dale Earnhardt Environmental Leadership Campus at Oak Springs in Iredell County. The property offers a myriad of conservation and public benefits, including watershed protection for five miles of the South Fork Yadkin River, access to nature, and recreation and education activities. A portion of this area is designated by the NC Natural Hertigte Program as a State Significant Natural Heritage Site – an area of special biodiversity importance to protect the natural habitat of rare plant and animal species. A future 2-mile segment of the Carolina Thread Trail will be built on this property.
Lakewood Preserve – Mecklenburg County
Located along a tributary of Stewart's Creek in the City of Charlotte is a 19-acre tract of land that is conserved for outdoor recreation and public access. The City of Charlotte, which owns this property, is undertaking stream restoration and storm water mitigation improvement projects within this conserved area. A future .5-mile trail segment for the Carolina Thread Trail is planned.