Lincoln County Family Farm Permanently Protected by Catawba Lands Conservancy
Iron Station Farmers Donates 70 Acres for Conservation
Charlotte, N.C. – A 70-acre family farm in Lincoln County has been permanently protected thanks to a conservation easement donated to Catawba Lands Conservancy by husband-and-wife landowners Don and Jackie Rudisill. The working beef cattle farm contains 48 acres of prime agricultural soils as well as approximately 2,000 feet of frontage on Bradshaw Branch, a tributary of the Catawba River.
With the CLC agreement, Don is pleased that his grandfather's and father's land will stay as it was intended – prime farmland rich in family history.  "I do not want to see this land turned into what's next door and my parents would have wanted to that," Don says, referring to a sprawling mobile home development to the left of the property.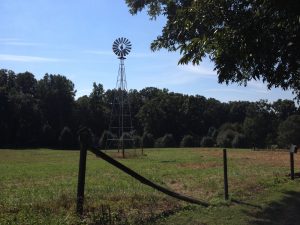 Don grew up on the farm and during his childhood the farm was used for row crops and later for dairy cattle. His grandfather originally bought most of the 70 acres of farmland 110 years ago, eventually adding another 3.5 acres for the original farmhouse: a small white clapboard house along Hwy. 73 near Lincolnton.  He farmed the land his entire life, leaving it to Don's father.
"Don's roots run deep here.  It's become part of who he is," says Jackie. "I don't ever want it to be anything but farmland."
Farmland conservation is a key focus of CLC's land protection efforts. Conserving family farms supports farming as a way of life, preserves regional heritage, sustains the rural economy and provides access to locally grown and harvested food thereby reducing environmental and transport costs.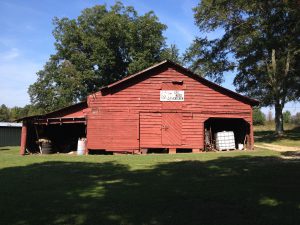 Farming in North Carolina comprises more than 20 percent of the state's income, but is at great risk.  Since 2002, North Carolina has lost 6,000 farms and 600,000 acres of farmland, more acreage than any other state according to the North Carolina Agricultural Development & Farmland Preservation Trust Fund. CLC currently protects more than 40 farms within a six-county territory in the Southern Piedmont of North Carolina.
The permanent conservation easement on 70 acres of the Rudisill Farm allows sustainable agricultural use, but restricts future commercial, industrial development and other activity that could impact the land. The Rudisill's donated the easement to CLC, which means that they accepted no compensation for the property value forfeited by restricting development on their land.
About Catawba Lands Conservancy
Catawba Lands Conservancy (CLC) is dedicated to saving land and connecting lives to nature, and is one of 24 land trusts serving North Carolina. CLC protects more than 15,000 acres of land and serves Catawba, Gaston, Iredell, Lincoln, Mecklenburg and Union counties. CLC is committed to improving the quality of life in the communities it serves by protecting clean water, wildlife habitats, farmland and natural open spaces for public benefit. CLC is also the lead agency for the Carolina Thread Trail, an initiative focused on linking more than two million citizens with hundreds of miles of trails through 15 counties in North and South Carolina. For more information, go to: catawbalands.org
# # #