National Land Trust Day
Join us in celebrating the positive impact of land conservation on National Land Trust Day! Learn more about land trusts by watching this short video produced by Our State Magazine in conjunction with Great Outdoor Provision Company:
Shop Great Outdoor Provision and Support Conservation!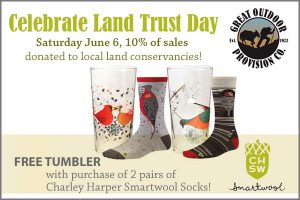 This year, GOPC is giving 10% of their sales on June 6 to local land trusts, including CLC!  Since 1992, GOPC has supported local land trusts by donating a portion of sales on National Land Trust Day from all of their stores. They have now raised over $225,000 for land trusts in North Carolina.
Additionally, purchase two pairs of SmartWool socks designed by modernist artist Charley Harper on June 6 and receive a free a matching tumbler as a gift.
National Trails Day
National Land Trust Day also coincides with American Hiking Society's National Trails Day, the largest celebration of trails in the country! On Saturday, June 6, trail lovers throughout the United States will take part in hikes, paddling trips, stewardship projects and more. Lace up your hiking boots and take to the trails!
Find a National Trails Day event  near you.