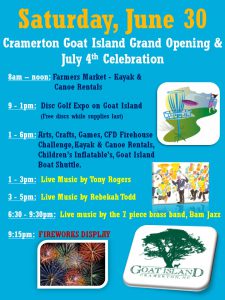 The Town of Cramerton will hold another festive event on Goat Island this week where community residents can access and enjoy a new segment of The Carolina Thread Trail! On Saturday, June 30, from 8 a.m. until 9:15 p.m., events will take place on Goat Island to celebrate the park's grand opening and the July 4th holiday.
This new park features a new .3-mile segment of the Carolina Thread Trail (called the Goat Island Greenway) that connects a residential area with the park via a new pedestrian bridge. Also, a 38-acre natural area (Goat Island Preserve) adjacent to the new park is conserved by Catawba Lands Conservancy and a new future segment of The Thread will be built at this new park on the preserve!
The event, called the Carmerton Goat Island Grand Opening and July 4th Celebration, will feature a farmer's market, kayak and canoe rentals, arts, crafts, games and live music. The event is free and open to the public.
The Thread awarded a $100,000 grant to the town in 2009 for this new trail project. The grant, along with funding from the North Carolina Parks & Recreation Trust Fund, North Carolina Recreational Trails Program, Glenn Foundation and the Town of Cramerton, helped to fund this project.
Another pedestrian bridge, to connect the island to the town's central business district, will be part of The Thread; this bridge and new trail connection are in the preliminary planning stages. The trail will eventually provide public access to our conserved property that protects clean water and wildlife habitat along the South Fork River.