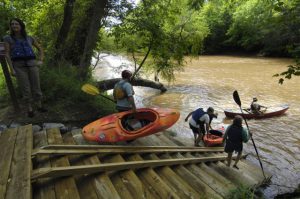 Due to public safety concerns related to unauthorized swimming and maintenance issues, Catawba Lands Conservancy temporarily closed its Spencer Mt. River Access canoe/kayak launch on Friday, June 29, 2012; it will remain closed until further notice. The Spencer Mt. River Access is located in Gaston County (200 Stanley Spencer Mountain Road in Spencer Mountain) along the South Fork Catawba River on a 52-acre preserve owned by CLC (Northbrook Preserve).
Opened to the public in 2009 as CLC's first canoe/kayak launch, the Spencer Mt. River Access provides canoe and kayak users with a convenient and safe location to access the South Fork Catawba River. The launch location is the beginning of a five-mile scenic river excursion – from the Northbrook Preserve to the Phar Yarns Preserve – that connects these conserved properties. This blueway is part of the Carolina Thread Trail.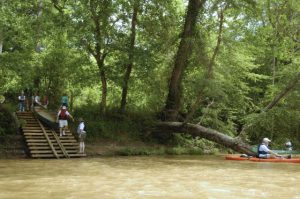 In recent months, some visitors to the Spencer Mt. River Access have not abided by posted rules prohibiting swimming and wading; this access area was not intended to accommodate these activities. The inherent risks associated with swimming in a river that has changing water levels and unpredictable currents have created safety and liability concerns. This access site – which is on a conserved natural area along the river bank – has also experienced problems with litter and vandalism. The totality of these ongoing public safety and maintenance concerns has prompted CLC to temporarily close the access and consult with its community partners to find solutions for these issues.
"We opened this private land for public benefit to allow people in our region to see, experience and enjoy some of the natural areas in Gaston County," said Tom Okel, executive director for CLC. "We appreciate those who have been using this facility responsibly and apologize for this inconvenience to them. However, we cannot continue to operate the access in a way that is not environmentally and operationally sustainable, and puts public safety at risk."
CLC is working hard to quickly address these concerns in order to reopen the Spencer Mt. River Access as soon as possible; a reopening date has not been set. CLC is asking the public to call 704-342-3330 if they have questions or suggestions regarding this closure. More information will be posted on the CLC's website and Facebook pages regarding updates and information.