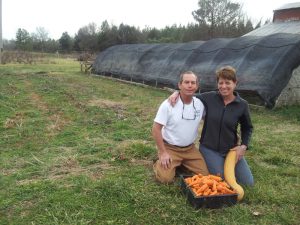 Food from the Rollins' farm in Lincoln County will be featured as a part of  the Taste for the Land event on Oct. 24.
Growing big carrots and massive squash is second nature to Brian Rollins. He and his wife, Jane, have been farming about 41 acres in Lincoln County for more than 20 years and cannot imagine life any other way.
His property and farm, called Big Sky Farm, has been conserved by Catawba Lands Conservancy since 2004. "We just have a passion for the land and living on it, working it and making it better. We decided this way of life is important for us and our children, and the farming community in general," said Brian. "We want our children and community to know where food comes from and not take that for granted."
Before growing vegetables and selling them at local farmers markets, Brian farmed and owned a tree and plant nursery on his property. Over the years, he's bought more land to expand his farm and keep the surrounding area natural.
"We want our community to be sustainable and farming is a huge part of our way of life. One of the best decisions I ever made – outside of marrying my wife – was to place my land under a conservation easement. We own our land, we live on it and we have the wonderful piece of mind that this property will be here long after we're gone. And that makes us happy."
The Rollins are embarking on new ventures on their seasoned farm. Providing the right soils and conditions to grow truffles is Brian's ongoing challenging personal project. But they're finding success in a statewide farming initiative to grow and produce native North Carolina wheat and rye for breads and milling. They plan to sell the grains and also use them for their own bakery venture (that will launch later this year) and wood fire pizza business, GoodWoodPizza.
"We want to keep family farming viable in Lincoln County for a long time and we're always looking for ways we can do more and expand. We're just so thankful that we can live out our lives on this beautiful property and do what we love."
More about GoodWood Pizza: You can have wood oven pizzas made with farm fresh veggies at your next event! Learn more at www.goodwoodpizzaovens.com or call 980.241.9099.