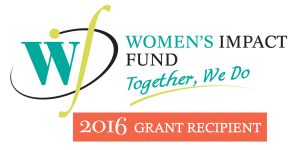 Catawba Lands Conservancy Awarded a 2016 Women's Impact Fund Grant
Charlotte, N.C. – Catawba Lands Conservancy (CLC) received a $74,000 grant from the Women's Impact Fund to fund a new program coordinator position responsible for developing environmental education and public programming.
The award was announced yesterday at the annual meeting of the Women's Impact Fund at Foundation For The Carolinas. A total of $437,000 was awarded to five local nonprofits in the areas of Arts and Culture, Education, Health, Human Services and Environment.
"We are immensely grateful for the Women's Impact Fund grant, which will enable us to meet the increased demand for outdoor experiences," said Tom Okel, CLC executive director. "This new position will help us expose more people to the wonders of nature and the importance of preserving our natural areas."
The grant to CLC will help address critical community needs: conserving natural resources and promoting the health benefits of time outdoors. By encouraging an appreciation for the natural environment, the program coordinator will also educate the public on the importance of land and water conservation. New outdoor programs will engage children and adults in CLC's four conservation focus areas: clean water, wildlife habitat, local farms and connection to nature. The funding will also allow CLC to use the land it has preserved for the maximum public benefit by providing greater access to families and individuals.
The Charlotte region is one of the fastest developing in the country, making it imperative to maintain a balance between development and conservation. Projections from the UNC Charlotte Urban Institute show that within the next 15 years, the greater Charlotte region could lose 30% of its remaining green space, which will have a profound impact on water and air quality, wildlife habitat, access to locally grown foods and opportunities for recreation.
###
About the Women's Impact Fund
Since 2003, the Women's Impact Fund has amplified the significant role women play in philanthropy. Its mission is to maximize women's leadership in philanthropy by engaging and educating members, increasing charitable contributions and strengthening communities through the impact of collective giving. With over 400 members, the organization has emerged as one of the largest women's collective giving groups in the country and continues to create powerful change in Mecklenburg County. To date, the Women's Impact Fund has made 59 grants totaling more than $4.6 million. For more information, visit www.womensimpactfund.org.
About Catawba Lands Conservancy
Catawba Lands Conservancy (CLC) is a nonprofit land trust that permanently protects land, water and wildlife habitat, farmland and natural areas for public benefit in North Carolina's southern Piedmont and lower Catawba River basin. It is dedicated to saving land and connecting lives to nature, and is one of 24 land trusts serving North Carolina. CLC protects more than 15,000 acres of land and serves Catawba, Gaston, Iredell, Lincoln, Mecklenburg and Union counties. CLC is also the lead agency for the Carolina Thread Trail, an initiative focused on linking more than two million citizens with hundreds of miles of trails through 15 counties in North and South Carolina. For more information, visit www.catawbalands.org.
For further information, images and interviews, please contact Alesia DiCosola at alesia@catawbalands.org or 704-342-3330 x 205.