The community effort aims to recruit volunteers to help plant trees in several Charlotte communities. Sign up today and volunteer to plant trees around Charlotte.
The City of Charlotte, known for its financial centers and large number of places of worship, is also known for its trees. If you walk down many streets in Charlotte, you'll be greeted by big, majestic trees that have been part of the local landscape for decades. Charlotte's tree canopy is the city's most recognized natural treasure and resource. But, it's threatened. The city lost approximately three percent, or 9,475 acres, of its tree canopy between 2002-2008, and additional losses are projected from natural degeneration and development.
There's currently a public/private collaborative effort underway, called TreesCharlotte, that is focused on addressing the need to plant, preserve and protect Charlotte's trees to help make the city a more greener and healthier place to live, work and play. TreesCharlotte, initiated by the Knight Foundation, Foundation For The Carolinas and City of Charlotte in partnership with the Charlotte Public Tree Fund and Catawba Lands Conservancy, has a community goal to increase the city's tree canopy by 50 percent by 2050.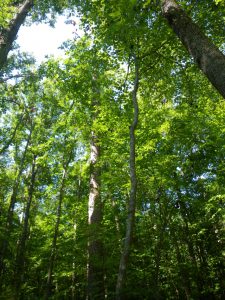 This effort to plant trees, raise awareness in the community of the canopy and educate the public on tree care is being led by former CLC Executive Director Dave Cable. He believes TreesCharlotte is an important community catalyst for civic engagement and a natural fit for Catawba Lands Conservancy.
"TreesCharlotte is a great way the community can get involved, volunteer and make a difference in the health and sustainability of our region and in advancing urban conservation," said Dave, who is the director for TreesCharlotte. "Trees play an important role in our region's landscape – in addition to their beauty and benefits of increasing real estate values – trees provide many environmental and community benefits that are essential to our physical and social health." Dave also added that trees also clean our air, reduce storm water run-off, cool our streets and reduce energy use.
CLC will lead the NeighborWoods program of TreesCharlotte, an effort that will manage the planting of nearly 3,500 trees each year. NeighborWoods will strategically align communities that have a reduced amount or little existing tree buffer with volunteers who can plant small or medium maturing trees. CLC will recruit and manage corporate and community volunteers to plant trees in these various neighborhoods. CLC will also work in conjunction with the City of Charlotte which will identify the communities, schedule tree plantings and seek partners or sponsors. Heike Biller, CLC's administrative director, is managing the NeighborWoods planting events and volunteer recruitment.
"This is a great and tangible way many children and families can actively participate in an effort to help improve our community and make a lasting difference for conservation," said Heike.
CLC is recruiting volunteers now for monthly TreesCharlotte NeighborWoods tree plantings. Upcoming tree plantings are scheduled for Dec. 1, 2012 and January 12, 2013. If you are interested in volunteering, please contact Heike at heike@catawbalands.org or 704-342-3330, x210.