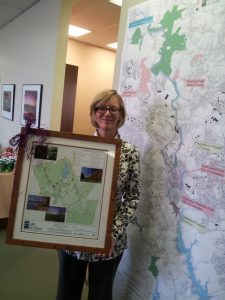 Catawba Lands Conservancy said goodbye this week to its wonderful, hardworking Associate Director RoxAnne Smith – a great champion for local land conservation efforts. Desiring to be closer to her family, RoxAnne resigned from CLC Nov. 15 to move back to Kansas.
Since 2008, she created a legacy for local land conservation efforts – one which included many collaborations and partnerships – that helped CLC achieve two consecutive record-breaking years for land conservation. In her role, she oversaw CLC's land acquisition team and served as CLC's general counsel. She managed and oversaw several land acquisitions that protected 3,850 acres of land and secured 19 miles of trail for the Carolina Thread Trail.  RoxAnne's hard work ethic and love of the land is prevalent from her extensive background in land trust management, planning, real estate law and her homegrown Kansas roots.
Her leadership and expertise will be missed, says CLC Executive Director Tom Okel.
"RoxAnne has been a valuable member of our team, from securing land acquisitions to providing key counsel for many projects and assessments, and her leadership, support and knowledge will be greatly missed," said Tom. "On behalf of the staff and Board of Directors, we thank RoxAnne for all that she has done for CLC and conservation. We know she will be successful as she transitions back to Kansas and wish her well in all her future endeavors."
RoxAnne also led CLC through a national accreditation process in 2008 with the Land Trust Accreditation Commission. As a result of her leadership, CLC was among the first land trusts in the nation to receive that designation, and one of only two land trusts awarded accreditation in North Carolina. An important part of her legacy includes working side-by-side with landowners and local farmers to explain the conservation easement process and securing state and local funding for land transactions. In addition, she participated in many statewide and regional collaborative land conservation efforts, such as the Piedmont Farmland Protection Partnership.
"I've thoroughly enjoyed working at CLC and building relationships with so many of our landowners, supporters, board members and community partners," said RoxAnne. "I love the land and this work, and the people and places it represents. Land conservation is so important for the health and sustainability of this region, and I am happy I had a part in saving land right here in the Southern Piedmont of North Carolina."
Prior to joining the Conservancy, RoxAnne was with the Kansas Land Trust (KLT) where she served as the Executive Director for seven years.  RoxAnne earned a joint degree from the University of Kansas, a Master's degree in Urban Planning and a J.D.  She practiced real estate and land use law at the firm of Lathrop & Gage L.C. in Kansas City, Missouri before joining KLT in 2001.