Feb. 19 event "Gardens & Green Space" brings together unprecedented corporate support for local land conservation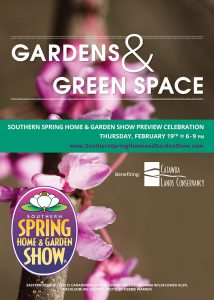 CHARLOTTE, N.C. – Catawba Lands Conservancy (CLC) is pleased to announce that Southern Shows, Inc. has named it the beneficiary of the preview celebration for the 2015 Southern Spring Home & Garden Show.
The February 19 evening event at the Park Expo and Conference Center features food, drink and entertainment set amid 22 gorgeous indoor gardens inspired by icons of the Carolinas. One hundred percent of the proceeds from the celebration will go directly to CLC.
"Catawba Lands Conservancy is thrilled that Southern Shows selected us as its nonprofit beneficiary," said CLC Executive Director Tom Okel.
"The Charlotte region is rapidly losing its natural lands and we have an urgent need to conserve the green space that remains. Conservation benefits everyone through clean air and water, diverse wildlife habitat and places to enjoy the outdoors, and this relationship with Southern Shows will help us reach a wider audience with our message," Okel continued.
The event has also rallied unprecedented corporate support for CLC with more than 30 sponsors underwriting the evening, many of whom are supporting CLC for the first time. The preview celebration is being presented by lead sponsors Wells Fargo and Bank of America. Underwriting support is being provided by Harris Teeter, Perkins International and Southern Shows, Inc. Steward level sponsors include Belk, BlackArch Partners, Bragg Financial Advisors, Crescent Communities and Faison.
At the sustainer level, support is provided by Babson Capital, SteelFab and Troutman Sanders. Patron level sponsors include Autobell, Balfour Beatty, Carocon, Cato Corporation, CBRE, Choate Construction, DeSoto Holland Wealth Management, Elliott Davis, GreerWalker, Keffer Volkswagen, The Keith Corporation, LandDesign, Lanier Grading, Lat Purser and Associates, Little and Associates, LS3P, Marsh Properties, PNC Bank, Robinson, Bradshaw and Hinson, Rodgers Builders, Trinity Partners and Wayland and Marion Cato.
In explaining the selection of CLC as this year's beneficiary, Southern Shows, Inc. co-founder Joan Zimmerman said, "People have a need for outdoor environments and the peace they provide. We are acutely aware of the need for land conservation and recognized that the Conservancy was going about their mission – to save land from heavy development – in a serious and sensible way."
The preview celebration takes place on Thursday, February 19, from 6 to 9 p.m. at the Park Expo and Conference Center in Charlotte, N.C. The event is open to the public and tickets can be purchased online through CLC's website at www.CatawbaLands.org/Spring.
Tickets are $75 per person and include heavy hors d'oeuvres, beer and wine and a return ticket to the Southern Spring Home & Garden Show. Parking for the preview celebration is free.
The Southern Spring Home & Garden Show returns to its roots in 2015 with a theme saluting the best of the Carolinas. The Show officially opens on Friday, February 20 and runs for two weekends: February 20-22 and February 27-March 1. Admission is $9 in advance online and $11 at the door. For more information, visit www.SouthernSpringHomeandGardenShow.com.
About Catawba Lands Conservancy
Catawba Lands Conservancy is a nonprofit conservation organization that permanently preserves nearly 15,000 acres of wetlands, forests, prairies and farmlands in the Southern Piedmont of North Carolina. It is dedicated to saving land and connecting lives to nature. One of 24 land trusts in North Carolina, CLC serves Catawba, Gaston, Iredell, Lincoln, Mecklenburg and Union counties.
CLC is committed to improving the quality of life in the communities it serves by protecting water, wildlife habitats, farmland and green spaces for public benefit. CLC is also the lead agency for the Carolina Thread Trail, a regional trail initiative focused on linking more than two million citizens in 15 counties in North and South Carolina. More information is available at: www.CatawbaLands.org.
About Southern Shows
Family-owned and operated, Southern Shows Inc. has produced high-quality consumer shows for more than 50 years. For more information, visit www.SouthernShows.com or call (800) 849-0248.