South Fork Trail
Saturday, June 6 | 9-10:45 a.m.
119 Willow Drive
McAdenville, NC 28101
FREE; Space is limited – advance registration required
Celebrate National Trails Day®, the largest celebration of trails across the country! Join us for an hour-long guided nature hike along a segment of the Carolina Thread Trail led by a Central Carolina Master Naturalist.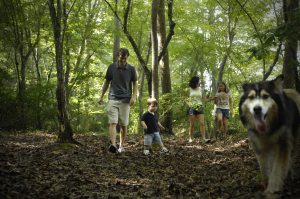 While we hike and learn about the South Fork Trail and adjacent Pharr Yarns Preserve, protected by CLC, attendees are encouraged to pick up trash and trim back vegetation overgrowth.
Thread Trail staff will provide direction and tools. Lunch will be provided at 11 a.m. Snacks, water and Gatorade will be available throughout. Please bring a water bottle and wear comfortable shoes!
This hike is open to the public and is an all ages event. Leashed dogs are welcome to join in on the fun.
Space is limited to 25 guests. Please register via Carolina Thread Trail.
This event is supported by a grant from United Technologies Aerospace. We are grateful for their partnership!
South Fork Trail
The South Fork Trail is a 2.2 mile, out-and-back natural surface trail adjacent to the South Fork of the Catawba River. The land surrounding this trail is part of Pharr Yarns Preserve, a 95-acre property protected by Catawba Lands Conservancy. Learn about big leaf magnolias, which produce the largest leaf of any tree in North America, and other significant plants native to this area. Rich in history, the trail follows an ancient riverside route originally used by the Native Americans and then utilized by settlers for textile mills.
Photo: South Fork Trail at CLC's Pharr Yarns Preserve. Photo by Nancy Pierce