Local Land Conservation Efforts Advance in 2013: Catawba Lands Conservancy concluded 2013 with a record number of protected acres: 1,972! The 14 conservation projects will benefit our region, enhance the quality of life, save natural resources and farmland, and support local economies. 
Catawba Lands Conservancy (CLC) ended 2013 with the permanent protection of 1,972 acres of land in 14 different locations across the Southern Piedmont of North Carolina. The total acreage sets a new record high for land conserved in a 12-month period, surpassing the previous record of 1,623 acres in 2011. To date, CLC permanently conserves a total of 176 propertie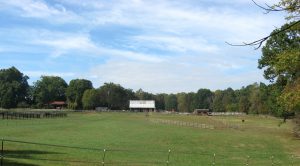 s, totaling 14,783 acres, throughout the greater Charlotte region.
CLC's conservation efforts save sensitive land from development while protecting critical drinking water sources, delicate habitats for fish and wildlife, and disappearing farmland and open space. All of the projects, except for one in Stanly County and another Cleveland County, are within CLC's six-county service area.  Of the 1,972 acres protected, 1,949 acres preserve biologically diverse wildlife habitats and 640 acres help protect and restore riparian buffers along rivers, creeks and streams within the Catawba, South Fork, Yadkin-Pee Dee and Broad river watersheds. Four of the properties will also provide land for future trail for the Carolina Thread Trail (The Thread) and while five of the properties protect the habitats of species listed on the state or federal priority species lists.
Funding for land conservation comes from local, state and federal funding sources or grants – like the North Carolina Clean Water Management Trust Fund – and from public, private or corporate donations. CLC also used grant funding last year from the Conservation Trust of North Carolina for acquisition and closing costs.
Listed below are the properties CLC conserved in 2013:
The Fork Farm and Stables
1,353 acres, Stanly County
Conservation of this land protects: Clean Water, Wildlife Habitat, Connections to Nature, Local Farmland
Waxhaw Creek Preserve
152 acres, Union County
Conservation of this land protects: Clean Water, Wildlife Habitat, Connections to Nature
Catawba Springs Preserve
136 acres, Lincoln County
Conservation of this land protects: Wildlife Habitat, Clean Water, Connections to Nature
Stony Knoll Conservation Easement
60 acres, Union County
Conservation of this land protects: Clean Water, Local Farmland, and Wildlife Habitat
Dean (Cleveland) Conservation Easement
57 acres, Cleveland County
Conservation of this land protects: Local Farmland, Wildlife Habitat, Clean Water
Friday Farm Addition Conservation Easement
48 aces, Gaston County
Conservation of this land protects: Wildlife Habitat, Clean Water, Local Farmland
Burton Addition Conservation Easement
36 acres, Mecklenburg County, Ramah Creek Area
Conservation of this land protects: Wildlife Habitat, Local Farmland
Dean (Lincoln) Conservation Easement
34 acres, Lincoln County
Conservation of this land protects: Local Farmland, Wildlife Habitat, Clean Water
McCoy Historic Farm Conservation Easement
29 acres, Mecklenburg County
Conservation of this land protects: Clean Water, Wildlife Habitat, Local Farmland
Bragg Woods Conservation Easement
28 acres, Mecklenburg County
Conservation of this land protects: Wildlife Habitat, Clean Water
McPherson Preserve
14 acres, Mecklenburg County
Conservation of this land protects: Clean Water, Wildlife Habitat, Connections to Nature
Ramah Creek Gateway
7 acres, Mecklenburg County
Conservation of this land protects: Local Farmland, Wildlife Habitat
Welch Conservation Easement
7 acres, Mecklenburg County
Conservation of this land protects: Clean Water, Local Farmland, and Wildlife Habitat