Heidi Nisbett grew up in South Carolina, surrounded by all the incredible natural places we have here in the Carolinas. But it wasn't until she adopted her dog Junie that hiking became such an important part of her life. With a high-energy pup who needed to let off steam, Heidi was hiking a six-mile loop at Crowders Mountain before she would head to work in the morning. Hiking was the perfect way to wear Junie out while also bonding with her.
Although she had a degree in fine arts, it was while hiking the Appalachian Trail (AT) that she first discovered how nature and art could go hand-in-hand. In her words, she "got a bug in her ear" about hiking the AT and she made the decision to thru-hike the trail in 2018. Like so many people, she felt it was a goal she was pulled towards. Throughout that hike, she carried a sketchbook and found the inspiration for her art.
Since her successful thru-hike (by the way, she just celebrated her 5th anniversary of completing the AT) she has transitioned into pursuing her art full-time under the name Sketching Summits. Heidi's passion for the outdoors and the flora and fauna that make a place special take center stage in her work. Working from reference photos or sketches, she likes to anchor a piece with features that identify it in time or location. A certain plant in bloom, or an animal known to live in a particular area help to not only make the piece beautiful, but can capture a memory within the art.
When we decided we wanted to create special stickers that highlight the Conservancy and Thread Trail, working with Heidi felt incredibly organic. She's been connected with the Thread Trail ever since she managed the hiking club and programming at Blue Blaze Brewery, before jumping into her art full-time. She hikes the Thread Trail regularly (Pharr Yarns Family Trail, formerly called South Fork Trail, is one of her favorites) and her focus on the flora and fauna that make places special is a perfect fit for an organization that protects unique lands in the Piedmont.
The Conservancy sticker features several rare species that are found on lands we protect: the bigleaf magnolia, Schweinitz's sunflower and marbled salamander. The Thread Trail sticker (coming soon) will highlight both land and water trails and include our iconic blaze.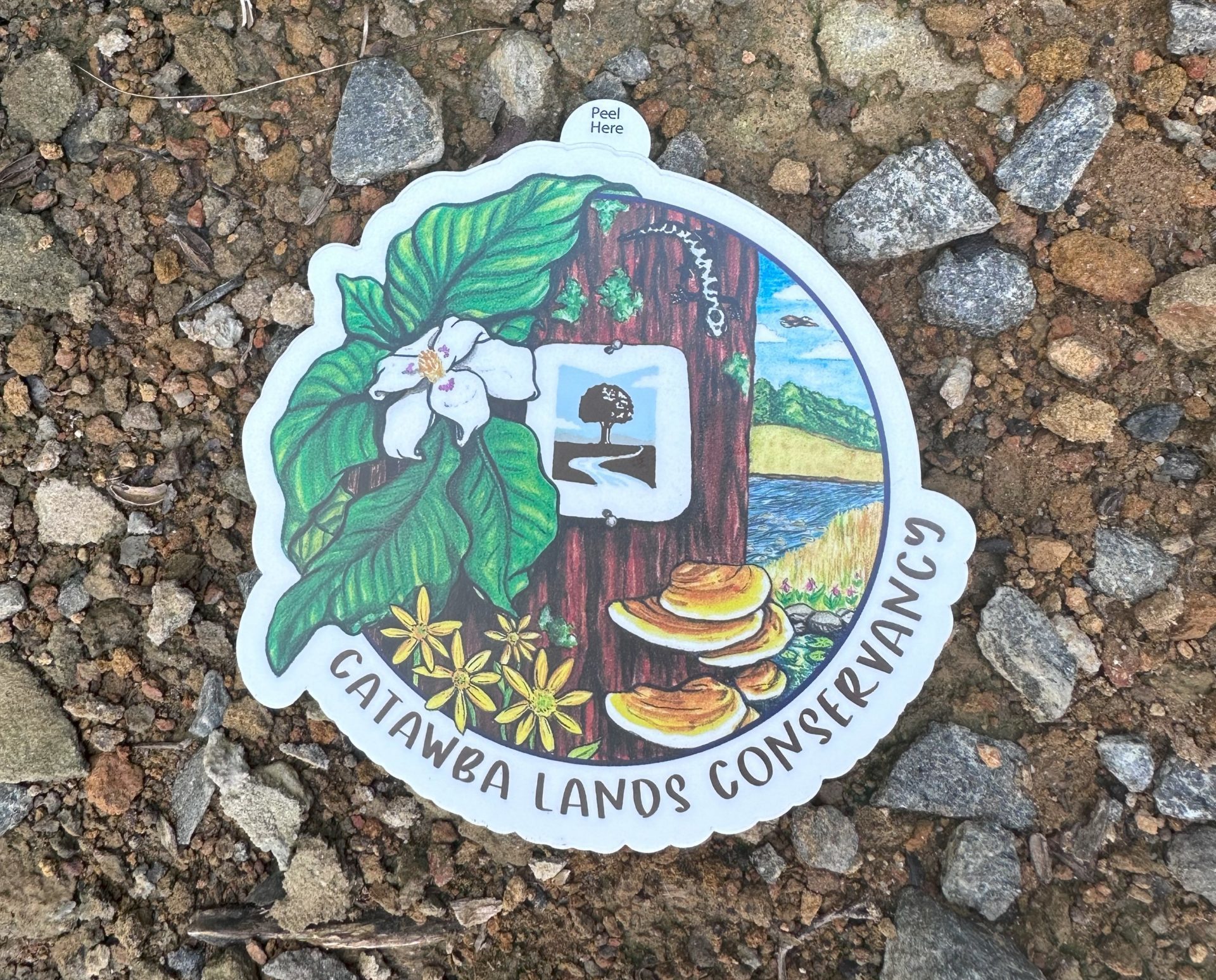 If you want to get your hands on these stickers, you won't have to wait long! In fact, anyone who makes a gift during our fall giving campaign, happening now through October 31, will receive a Conservancy sticker as a thank you for supporting us. Thread Trail stickers will be available later this fall.
Be sure to follow us to be the first to know when they're available:
And follow Heidi's Instagram to see more of her nature-inspired art!