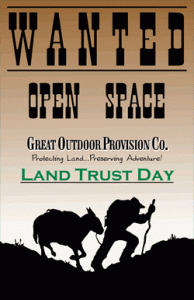 June 2 is Great Outdoor Provision Co.'s Land Trust Day! When you shop at the Charlotte Store at the Park Road Shopping Center, a portion of the sales proceeds will be donated to Catawba Lands Conservancy!
Each year the company holds Land Trust Day in conjunction with National Trails Day. This is a great way you can support your local land trust while buying great outdoor equipment and apparel!
At a Great Outdoor Provision Co., you can buy all of your outdoor adventure supplies including: fishing, backpacking and camping equipment; outdoor, fishing and hiking apparel; shoes; and you can even rent canoes! The store's hours on June 2 are from 10 a.m. to 6 p.m. The Charlotte store is located at 4341 Park Road Charlotte, N.C., 28209. Also, a percent of the sales proceeds will support various trail initiatives, including effrots of the Carolina Thread Trail.
On its website, Great Outdoor Provision, Co. Founder Tom Valone explains why his company holds Land Trust Day. "We wanted to give something back to one of the cornerstones of our outdoor clothing and equipment business, a self imposed "earth tax," if you will. We settled on a donating a percent of sales receipts on National Trails Day in all our Great Outdoor Provision Co. stores. We chose local land trusts as the beneficiary as they acquire land for protection through purchase in the open real estate market or by gift, thereby guaranteeing that the most endangered lands of greatest importance to local communities and regions are protected."
Throughout the day from 10 a.m. to 6 p.m., there will be food, beer, music, prizes and information provided. Popular band Stringamajig will be playing bluegrass and master fiddler Glen Alexander will be playing a few tunes! So, come hang out on the porch and enjoy the party, festivities and great shopping!
We hope to see you on June 2 to shop and support Catawba Lands Conservancy!