Catawba Springs Preserve, a 136-acre preserve that is a part of the Forney Creek Conservation Area in Lincoln County, safeguards both water quality and wildlife habitat. Two man-made impoundments on the property,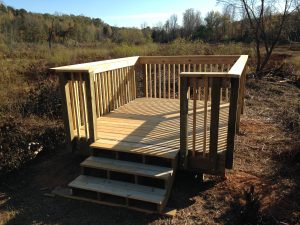 which was previously owned by the Catawba Springs Hunt Club, have created an important refuge for migrating waterfowl.
Impound (v): To gather and enclose water.
Impoundment (n): A body of water impounded with an enclosure, such as a reservoir.
Catawba Lands Conservancy and Carolina Thread Trail staff, along with the help of some great volunteers, has built a new observation deck that overlooks one of the impoundments. Highly affected by rainfall, the waterfowl impoundment was completely dry at the beginning of October through November. After just a small amount of rainfall it was full and once again a viable habitat for these migrating waterfowl.
The Forney Creek Trail, a segment of the Carolina Thread Trail, is on the Catawba Springs Preserve and can be used to access the observation deck.  Make sure to take a trip to see this unique, man-made habitat! There are a number of winter species that you are likely to see, including: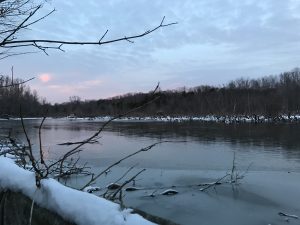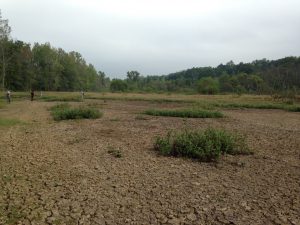 Great blue heron
Kingfisher
American coot
River otter
Snowy egret
Mallard
Wood duck
Ring-necked duck
Gadwall
American wigeon
Green-winged teal
Hawk
Photos: Feature image of the waterfowl impoundment by Nancy Pierce; top left of the newly constructed observation deck; bottom left of the waterfowl impoundment completely dry in November; bottom right of the waterfowl impoundment full after rain and snow in January.