Two Acres to 20: Dwarf-flowered Heartleaf is Flourishing
October 14, 2013
Volunteers Needed for Trash Pick-Up at Seven Oaks Preserve
October 23, 2013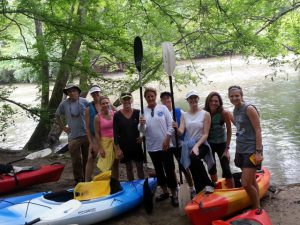 Would you like to be a part of a wonderful community project that's connecting people to people, neighborhood to neighborhood and North Carolina to South Carolina while helping to make our region a leader in conservation and outdoor recreation? If so, the Greenways Gals are looking for you!
The Greenway Gals is a group of women who will get together to hike and kayak several times a year along the Carolina Thread Trail (The Thread)! It will be a fun way to experience the outdoors as well as support the mission of The Thread – an extremely exciting project that is going to improve our community and region with a permanent system of trails, greenways and blueways that will link 15 counties and 2 states!
The membership fee is $250 per person. Greenway Gals believe in investing in The Thread to keep our region healthy by encouraging physical activity and exploring nature through walking, hiking and kayaking. Click the donate button below to become a Greenway Gals member!