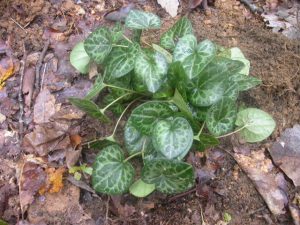 In 2006 when biologists assessed the land on which the Lincolnton/Lincoln County Airport now operates, they were surprised to find a viable population of Hexastylis naniflora plants growing.
Commonly known as the dwarf-flowered heartleaf, this federally threatened species grows only in limited areas within the Southern Piedmont. The dwarf-flowered heartleaf is a perennial flowering plant in the birthwort family and has distinctive heart-shaped evergreen leaves.
As part of the environmental mitigation plan for the airport's constr
uction and due to its federal status, a portion of the plant population had to be relocated and protected. Lincoln County officials and environmental biologists worked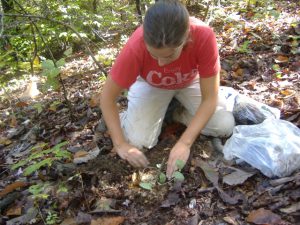 closely with Catawba Lands Conservancy to transfer nearly 700 of the plants to a nearby preserve already protected by CLC.
Seven years ago, nine volunteers spent 84 hours transplanting this perennial in a two-acre area on the preserve. One hundred plants were flagged and electronically logged to produce a sample of the relocated population for future monitoring. Since then, the dwarf-flowered heartleaf plants have been flourishing, so much so that the state took interest and sent a specialist to observe and survey the transplant area and other suitable habitat within the preserve.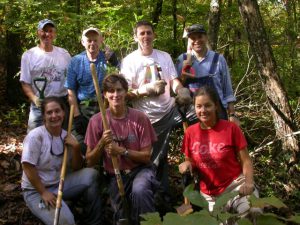 CLC's GIS Director Sean Bloom and Inventory Biologist/Botanist James Padgett from the North Carolina Natural Heritage Program recently conducted that extensive monitoring. They discovered that the dwarf-flowered heartleaf population is not just confined to the original transplant area, but the plants can also be found in four different locations of the preserve covering approximately 20 acres.
James, who is studying and surveying the dwarf-flowered heartleaf statewide, is also working with the U.S. Fish and Wildlife Service and the North Carolina Dept. of Transportation. He believes the heartleaf plants on our preserve could be the largest concentrated population of these federally threatened plants in the state! We'll keep you posted!