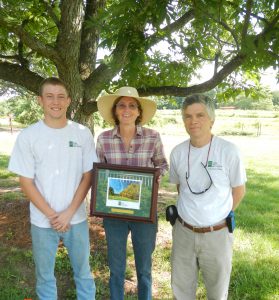 Over the past several weeks, we've been making visits to the offices, properties and homes of some of our 2011 corporate partners and landowners to thank them for their donation and present them with a plaque to show our appreciation of their financial support or gift of land to us.  About 50 plaques have been presented so far this year!
"It's a small token of appreciation for all of the things our partners and landowners do to support CLC," said Margaret Brantley, development director for CLC.
Nancy Anderson, former mayor of the Town of Weddington, received a plaque this week for the town's support of the Catawba Lands Conservancy. Nancy and her husband, Andy, own a farm that produces local vegetables, fish and beef on Providence Road in Union County. Their farm, named Hunter Farm, has been permanently conserved by CLC since 1999.
Andy Kane, stewardship associate for CLC, and William Carstarphen, a summer intern with CLC, presented Nancy with the plaque.