Haywood Rankin's Gastonia homeplace has a past — and, thanks to him, a bright future.
By Page Leggett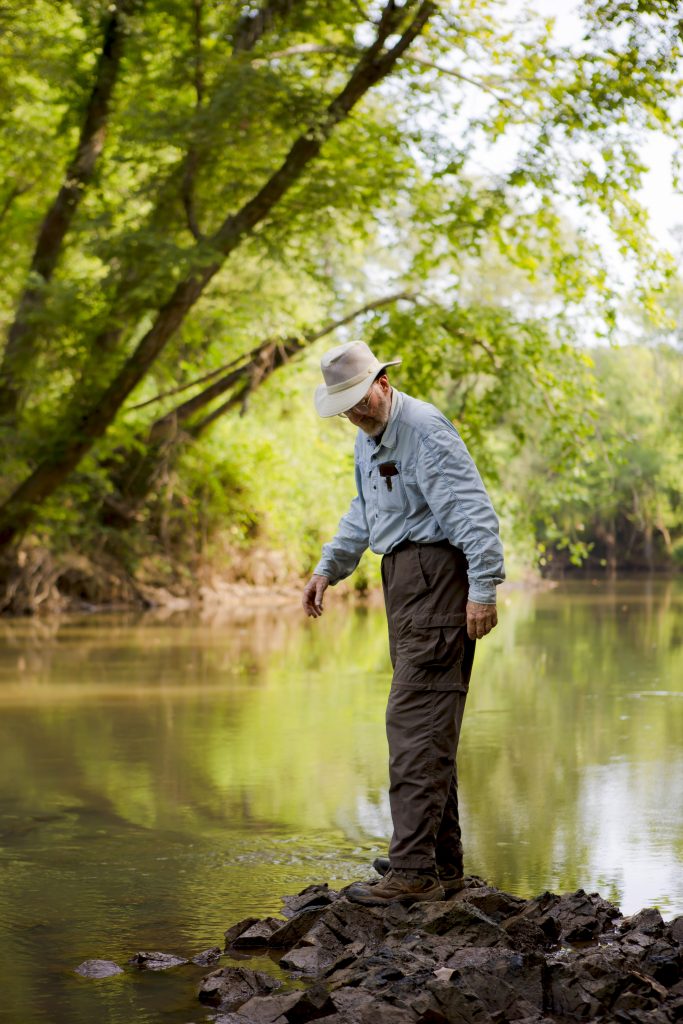 Haywood Rankin's life is inextricably linked to the Gaston County land he grew up on.
Since his childhood, the land has been a source of joy, pride and pain. But no matter what the land has given him, Haywood has loved it like it's a member of the family.
Haywood's mother, Jean, christened the property "Redlair" because of the striking color of the hair of her five children and their father, Forney "Red" Rankin. But the family matriarch never wanted to live here. "She felt out of her element," Haywood said.
Haywood was 7 when the family moved to the 100 acres that would become Redlair. Even that young, he was responsible for building fences and feeding cattle. "I was enraptured from the time we moved here," he said.
For all he has done for this property and for conservation in the region, the North Carolina Land Trust Council awarded Haywood its Lifetime Achievement Award earlier this year. Tom Okel, Alesia DiCosola, Andy Kane, Sharon Wilson and Matt Covington from Catawba Lands Conservancy were in Hendersonville for the ceremony.
"Haywood has dedicated his life to and has been the driving force in the protection and ongoing management of Redlair," said Tom Okel, executive director. "This land is one of the largest and most ecologically significant conservation preserves in this part of the state."
A rare piece of property
If you're invited to Redlair, you'll probably be asked to take a walk. "One cannot appreciate Redlair without walking," Haywood wrote in an email when we were scheduling my visit. "To get a full concept of Redlair, you would need to walk all 120 miles of trails, so designed as always to focus on a different miracle."
What makes Redlair so special? The Catawba River, for one thing. The main stem of the Catawba was converted decades ago into a series of reservoirs, but the South Fork remains intact as far south as Redlair and McAdenville before it empties into Lake Wylie.
But water can give, and it can take away. The soil eventually became ill-suited for Red's purpose: farming. Too much erosion meant no more crops. The land held treasures, though. It was home to significant populations of threatened species. The Bigleaf Magnolia and Schweinitz's Sunflower thrive here.
The same can't be said for all those who have called Redlair home. When Haywood's parents divorced in 1974 and divided the land, the debt-burdened Red began selling off parcels.
"My father was willing to live with phenomenal debt to become the landed gentry he aspired to be," he said. "We never had new clothes or shoes … but my dad did what he could to satisfy his land acquisition habit."
"He wanted a farm," Haywood said. "But he wasn't a farmer."
A gift to posterity
Selling their land could've netted the Rankin family plenty of cash. "If you have land worth protecting, usually people want money for it," Haywood told me in the dining room of the home he shares with his wife, Sabine; two cats; two dogs and a few horses.
Haywood and his siblings (two of the five, anyway) did sell the family property in 2014. The two who weren't involved didn't even ask for any of "their take." But there's an unexpected twist to this story. Three Rankin siblings – Charles, Katherine and Haywood – sold to North Carolina's Plant Conservation Program, which is dedicated to conserving threatened plant species and their natural habitats. They also committed every dollar of the proceeds to a foundation dedicated to protecting Redlair.
Their conservation efforts started much earlier. In the 1980s, Haywood persuaded his parents and siblings to divide Redlair into easements held by the American Farmland Trust.
When the Catawba Lands Conservancy was formed in the early 1990s, Haywood transferred the original Redlair easements to the conservancy. At that time, CLC had about 75 acres of protected property. The Rankin gift added more than 750 acres and gave CLC the clout it needed.
You can go home again
Home has a way of luring us back. Haywood, a former Morehead-Cain Scholar at UNC Chapel Hill (class of 1968), returned in 1998 as a 52-year-old retired diplomat. He had served the U.S. State Department in hot spots such as Syria before coming home and persuading his dad to protect all of Redlair.
Haywood has dedicated his life to preserving tracts of land that today comprise more than 1,500 contiguous acres along the Catawba. The "retiree" works 40-hour weeks to protect Redlair from invasive plants (kudzu is his nemesis), human intruders and encroaching development.
"It is hard to separate Haywood from Redlair," Tom said. "But what Haywood has done through Redlair has had an impact on the conservation community that goes well beyond this conservation area."
Feature image of a bigleaf magnolia by Graham Smith
Top left image of Haywood Rankin by Todd Hess