New acquisition protects water quality, wildlife habitat and will provide public access for paddling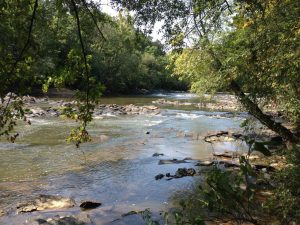 Charlotte, N.C. – Catawba Lands Conservancy has permanently protected 34 acres of forest along the Rocky River in southwest Stanly County. Named Pumpkin Creek Preserve, the land was purchased from the Town of Stanfield, N.C., using funding from the NC Clean Water Management Trust Fund.
The property provides approximately 2,600 feet of protection along the Rocky River and protects wildlife habitat and a variety of natural communities. Pumpkin Creek Preserve also features incredible slate bluff rising 30-feet.
The CLC-owned Preserve will also be home to a public kayak and canoe launch that will be part of the Carolina Thread Trail's Rocky River Blueway, a planned 60-mile river trail stretching from Midland, N.C. to Norwood, N.C.
"We're pleased that this beautiful piece of property will be forever preserved in its natural state," said Tom Okel, executive director of Catawba Lands Conservancy. "It will provide a tremendous setting for public access to the Rocky River for paddling and recreation."
Currently, there are three Thread Trail launch sites open along the river: two in Midland, N.C., and another in Ansonville, N.C. Plans call for 10 launch sites to be built along the 60-mile stretch.