NATIONAL TRAILS DAY
Presented by Duke Energy
Canceled and postponed to 2021
Mount Holly's Catawba Riverfront Greenway and Tuckaseege Park
165 Broome St., Mount Holly, NC 28120
**Due to the COVID-19 pandemic, we have cancelled our 2020 National Trails Day celebration. We look forward to seeing you for our celebration in 2021!
Celebrated on the first Saturday of June, our National Trails Day celebration presented by Duke Energy is a great way to kick off the summer on segments of the Thread Trail on land and water! The annual American Hiking Society's National Trails Day is the country's largest celebration of trails featuring a series of outdoor activities across the United States designed to promote and celebrate the importance of trails to our communities.
National Trails Day is a free community event.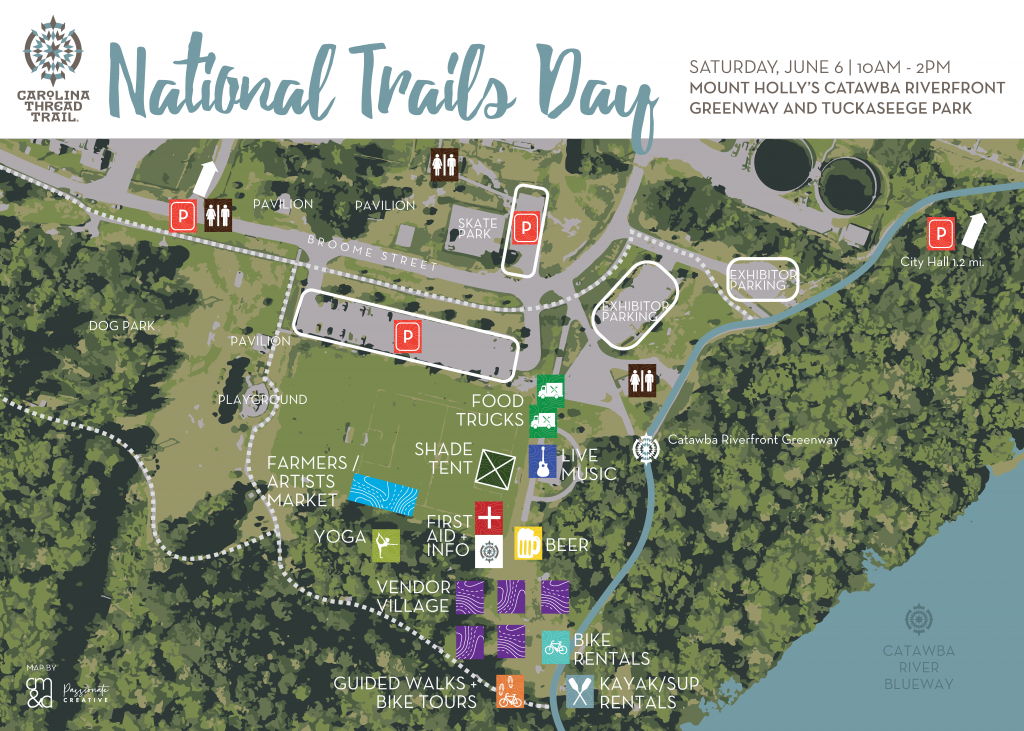 Activities
Habitat Restoration Volunteer Project | Eco Tour Kayak Trip | Guided Nature and History Walks | Guided Bike Tours
Group Yoga | Free Bike Rentals | Free Kayak/SUP Rentals* | Dog Park | Skate Park
Lawn Games | Child Nature Activities | Playground | Outdoor Lifestyle Exhibitors | Carolina Nail & String Art by Crowned Sparrow Co.
Live music by: Jeremey Davis from Elonzo Wesley | David Childers | Mike Strauss Band
*Rentals are on-site on a first come, first serve basis for 20 minutes at a time.*
Exhibitors
Carolina Thread Trail | Catawba Lands Conservancy | Go Gaston | REI | Anne Springs Close Greenway | River Rooster | Riverside Marina Paddle & Row | Suns Up Scuba | Zagster | Bright Star Music Studio | Gaston County Park and Recreation | Belmont Rowing Center | Gaston County Museum of Art & History
Check back soon for more event exhibitors!
Vendors
Blue Blaze Breweing Co. | Killer B's food truck | Maki Taco food truck | King of Pops
RSVP to be entered into our raffle!
Raffle prizes to be announced closer to the event. The raffle will be called at 12:00 pm at the band stage. You must be present to win.
Register for FREE day-of activities! Spaces are limited.
Please check back for activity registration in 2021.
Volunteer to help host the festival!
Please check back for volunteer registration in 2021.
Volunteers are needed throughout the day to help with everything from set-up to kayak rental support to staffing our Thread Trail tent section to checking people into the event and so much more! We are also looking for volunteers who specialize in water safety and first aid. It's a fun way to get involved and support the success of the event! You will receive a Thread Trail shirt and a lunch ticket along with unlimited snacks, water and Gatorade to keep you going!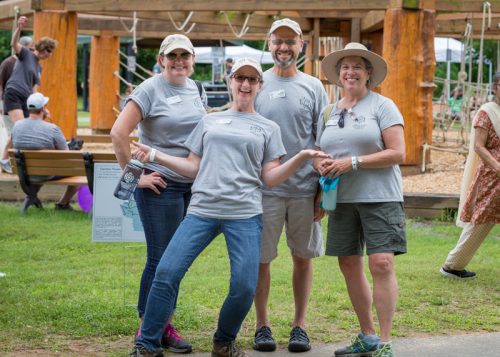 Getting There
Mount Holly's Catawba Riverfront Greenway and Tuckaseege Park
165 Broome St, Mount Holly, NC 28120
Google Map Link
Parking
You can park in the Mount Holly Municipal Complex Parking Lot. There is very limited parking at the park, so we encourage you to use this option!
Mount Holly Municipal Complex Parking Lot
400 East Central Ave., Mount Holly, NC 28120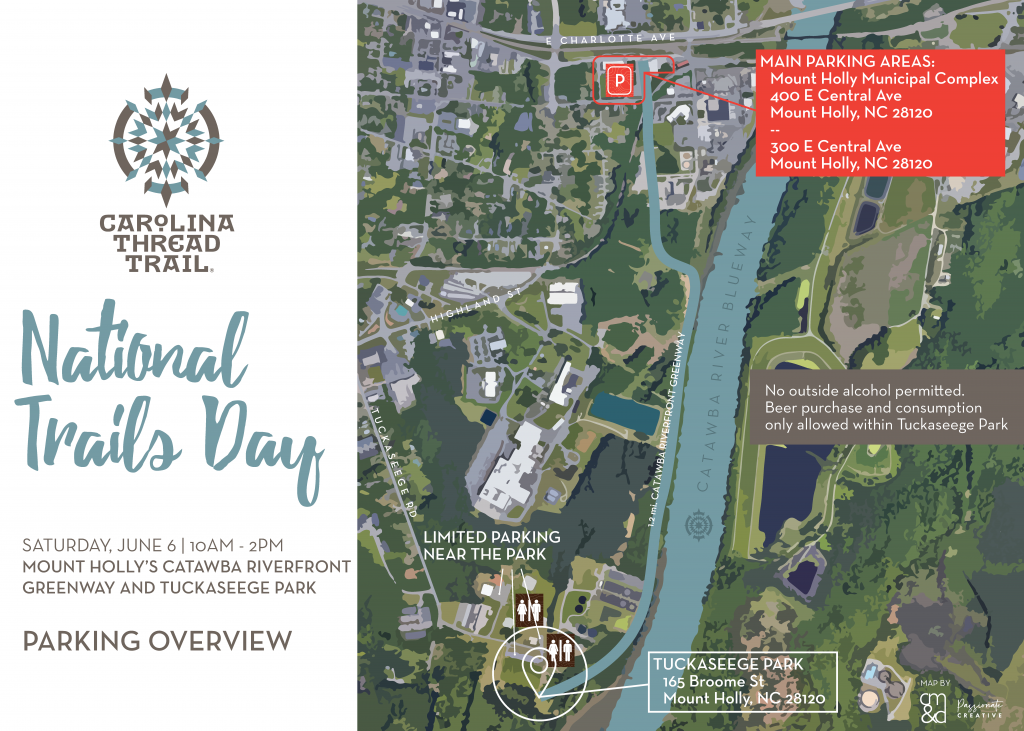 PRESENTED BY