CLC and James Family conserve 31 acres along Waxhaw Creek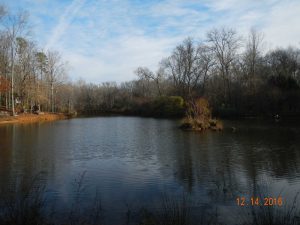 Charlotte, N.C. – In the last week of December, Catawba Lands Conservancy (CLC) worked with landowners Dennis and Debbie James to conserve approximately 31 acres of forested land (called the Little Lake James Conservation Easement) along Waxhaw Creek in southwestern Union County. Land protection along this portion of Waxhaw Creek has been a high priority for CLC because of its impact on water quality and wildlife habitat.
"The Waxhaw Creek corridor has emerged as a key focus area of our conservation efforts in Union County because of its impact on the water quality of the Catawba River downstream," said Tom Okel, executive director of CLC.
"Preserving natural land along the creek helps to filter and clean the water before it enters the Catawba, a major source of drinking water for residents south of Charlotte," he said.
This particular stretch of Waxhaw Creek is home to three imperiled aquatic species: Carolina Heelsplitter mussel (federally endangered); Carolina Darter fish (federal species of concern); and Rare Eastern Creekshell mussel (NC significantly rare).The presence of these listed species and a well-developed Piedmont alluvial forest led the NC Natural Heritage Program to designate portions of Waxhaw Creek as a Significant Natural Area.
CLC used grant funding from the Duke Energy Water Fund for the bargain sale purchase of the Little Lake James Conservation Easement, which restricts development and specific uses and ensures long term management to protect the natural resources of the property which provide relatively natural habitat for fish, wildlife, plants, and watershed protection.
Duke Energy's $10 million Water Resources Fund was created in 2014 to benefit waterways across North Carolina and South Carolina and to improve waterways downstream from Duke Energy operations that flow into neighboring states.
This new land protection project is part of a larger conservation focus area. East of the Little Lake James Conservation Easement, CLC owns and protects an additional 152 acres known as Waxhaw Creek Preserve, which will be home to a future segment of the Carolina Thread Trail. In 2013, CLC purchased that land, which was originally slated for residential development.
###
About Catawba Lands Conservancy
Catawba Lands Conservancy (CLC) is a local, nonprofit land trust dedicated to saving land and connecting lives to nature in the Southern Piedmont of North Carolina. CLC protects more than 15,000 acres of land and serves Catawba, Gaston, Iredell, Lincoln, Mecklenburg and Union counties. CLC is committed to improving the quality of life in the communities it serves by protecting clean water, wildlife habitats, farmland and natural open spaces for public benefit. CLC is also the lead agency for the Carolina Thread Trail, a regional network of trails, greenways and blueways focused on linking more than two million citizens through 15 counties in North and South Carolina.