3 new conservation projects part of innovative collaboration to preserve tree canopy
In July, we worked with the City of Charlotte's Tree Canopy Preservation Program (TCPP) to permanently protect three properties totaling 131 acres, one of which will be home to a future Mecklenburg County Greenway.
The conservation of these three properties was coordinated with the City's arborist as part of the City's goal of obtaining 50 percent tree canopy cover by 2050. The City purchased the three properties using funds from the Tree Canopy Preservation Program (TCPP) and donated the development rights to CLC.  TCPP was created out of the City's Tree Ordinance, which requires developers and property owners to save a certain percentage of tree canopy on their properties or make a payment to the TCPP in-lieu of the required tree save.
"This unique collaboration has allowed us to protect significant natural areas in Mecklenburg County that would otherwise be cost prohibitive," said CLC Executive Director Tom Okel. "Given the pace of development and loss of natural space this program is extremely important."
Programs similar to Charlotte's Tree Preservation Fund have been established by other municipalities, but Charlotte is among the first to implement it by acquiring forested land for conservation.
Doe Creek Conservation Easement
CLC and the City together protected 92.7 acres of timbered and forested lands along Doe Creek, a tributary of Reedy Creek, in east Mecklenburg County near Reedy Creek Park and Nature Preserve. The County has already acquired 48 acres along Reedy Creek for developing a greenway to the 880-acre Park and Nature Preserve.
Gum Branch Conservation Easement Addition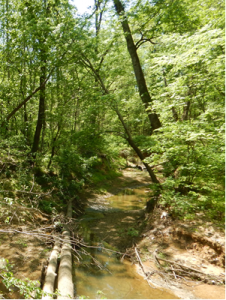 The City of Charlotte donated a conservation easement to CLC on 14 acres of forestland along Gum Branch Creek in northwest Mecklenburg County, which is adjacent to a 45-acre property CLC conserved last year.  The two properties create a 59-acre conservation corridor along the Creek that will safeguard water quality and eventually host a segment of the Mecklenburg County Gum Branch Greenway. The 14-acre addition protects approximately 2,020 feet of Gum Branch along with floodplains and wetlands that will help to filter runoff and flood waters.
Smawley II Conservation Easement
CLC also worked with the City of Charlotte and landowners Tracy and Chris Smawley to permanently protect 24 acres of forest on the western side of Mountain Island Lake, the source of Charlotte's drinking water supply. This 24-acre project expands CLC's first protected property, the Catawba Wildflower Glen, a significant natural area home to many rare plant species including Georgia aster and Georgia holly.
About Catawba Lands Conservancy
Catawba Lands Conservancy (CLC) is a local, nonprofit land trust dedicated to saving land and connecting lives to nature in the Southern Piedmont of North Carolina. CLC protects more than 15,500 acres of land and serves Catawba, Gaston, Iredell, Lincoln, Mecklenburg and Union counties. CLC is committed to improving the quality of life in the communities it serves by protecting clean water, wildlife habitats, farmland and natural open spaces for public benefit. CLC is also the lead agency for the Carolina Thread Trail, a regional network of trails, greenways and blueways focused on linking more than two million citizens through 15 counties in North and South Carolina. For more information, visit: catawbalands.org.
About the Tree Canopy Preservation Program
Charlotte's Tree Canopy Preservation Program (TCPP) seeks to acquire and conserve land within Charlotte with the goal of preserving and protecting one of the Queen City's most important natural resources: its nationally recognized tree canopy. The City of Charlotte's tree ordinance allows for payment in lieu of protecting trees on site in certain commercial development situations. The money collected from the ordinance goes into a fund that is designated for the acquisition and preservation of land to ensure that our tree canopy is maintained for future generations.